Ladies know Labor Day weekend is meant to honor hard work, not actually do any.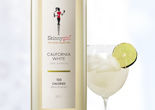 TAKE THE LABOR Out OF LABOR DAY
Ladies know Labor Day weekend is meant to honor hard work, not actually do any. So, like all things Skinnygirl® Cocktails, we've made celebrating it simple for you. Honor the holiday with these five easy steps to make your end-of-summer occasion eventful and effortless!
ONE LAST TIME IN White
A lady will proudly wear white as late in the season as she wants. But a Labor Day White Party is a festive way to poke a little ladylike fun at old rule of etiquette...with Ready-to-Serve cocktails that won't stain! Check out our Pinterest board for a little White Party inspiration.
Rely ON THE READY-TO-SERVES!
All of our cocktails make it easy to enjoy your favorite delicious drinks without any of the guilt. But it doesn't get any easier than our Ready-to-Serve Cocktails! Click here to see all seven and pick one for Labor Day. Then turn the cap and serve! Or for something almost as easy and every bit as refreshing, try our simple White Wine Spritzer recipe!
Stay PUT AND STAY-CATION!
What's even easier than a Labor Day excursion? A weekend stay-cation, complete with indulgent (but easy) ways to pamper and reward yourself! Click here for our stay-cationing hints. Then call the girls and get them ready for a "trip"!
GIVE UP CARBS, NOT Flavor!
Our fans are used to going low-calorie without giving up the taste they love. This delicious recipe for Spaghetti Squash Arrabbiata will fit right in! It's easy to make, low-carb and perfect for your Labor Day plans.
ABOVE ALL, BE Responsible!
Labor Day is one of the most fun weekends all year! Statistically, though, the roads are the most dangerous. So take every step you can to celebrate the holiday safely. Drink water, wear sunblock, and always make sure you have a safe ride home!