Take a trip to paradise without leaving the comfort of your own backyard with our top five staycation ideas.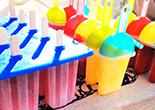 WHAT'S Your SUMMER STAYCATION STYLE? CHOOSE YOUR OWN AT-HOME ADVENTURE!
Take a trip to paradise without leaving the comfort of your own backyard with
our top five staycation ideas.
Vintage POOLPARTY
Want to make a splash? Just add water like Skinnygirl® Cocktails Insider Kelly Lee, who threw a glam, '60s-inspired pool party at her desert home. Steal her style by incorporating colorful and quirky touches like pink flamingo statues, swan floats, pineapples, old-school bar carts, and designer ice buckets, which Lee suggests lining with parchment paper and using as serving dishes. Recreate Lee's light and bright menu with chic signature cocktails, portobello mushroom sliders, fresh summer salads and Palm Springs Freezer Pops, infused with Sweet 'n Tart Grapefruit Margarita.
YOGA Retreat
Here's an "om"-azing idea for an outdoor soiree: strike a pose with your girls during a sunset yoga session! Rent a projector to play your exercise video of choice, or splurge on a private instructor and decorate with candles and inspirational sayings. Afterward, celebrate with spiked smoothies. Afterward, reward yourselves with one of Skinnygirl® Cocktails' most icy, refreshing summer recipes: the Peach Vanilla Smash.
Ladies WHO LUAU
Can't make it to Hawaii? Bring the laid-back vibe to you! Create the island atmosphere with tiki torches, hula dancers and ukulele music, and let your ladies make their own leis. Want to add flowers to more than just your neckline? Accessorize cocktails with edible hibiscus petals along with other tropical touches like umbrellas, palm tree swizzle sticks and tropical fruit garnishes. And consider serving cocktails out of hollowed-out coconut shells or pineapples. Just make sure this dreamy duo is on the list: Skinnygirl® Piña Colada and Skinnygirl™ Island Coconut Vodka.
GLAMPING Trip
Want to get in touch with nature? Host a sleepover under the stars! Ask your ladies to ditch their phones, and get ready to bond around the bonfire. Take turns telling scary stories or playing silly games (Truth or Dare, anyone?), and stock a cooler with Skinnygirl® Skinnyminis™ for easy alfresco refreshments. Roast bananas, pineapple and marshmallows over the open flame, and fire up other camp classics like foil-wrapped baked potatoes and veggies. After midnight, create a comfy indoor lounge with sleeping bags, blankets and pillows for the true glampers in the group, while those who really want to rough it can pitch tents outside.
The next morning, treat your girls to these delicious, gluten-free Coconut Pancakes from Skinnygirl® Cocktails Insider Lauren Kelly, which pairs perfectly with our getaway in a bottle: Skinnygirl™ Island Coconut Vodka.
BEACH Beauty BASH
Want to sport that enviable vacation glow? Go faux! Invite your girls over for a sizzling summer makeover soiree, and hire a professional to apply spray tans, or stock a self-tanning station with shimmery bronzers, lotions and scrubs instead. For inspiration, serve our bronzed Italian beauty, Skinnygirl™ Moscato Wine. Dress up your tresses by setting up a braid bar with flowers and embellished hair accessories, and enlist the help of a stylist who can teach your ladies how to do everything from trendy fishtails to classic French plaits. More of a DIY girl? Download how-to videos and take turns styling each other. Encourage your guests to stay hydrated by attaching our summer e-card to water bottles, and swag your fellow ladies of leisure with other summer essentials like flip-flops and SPF-infused lip glosses
Have a staycation suggestion? Tell us on Facebook and Twitter!
For more outdoor entertaining ideas, click here.
All trademarks are the property of their respective owners.