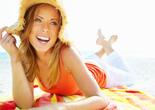 Depending on where you are located, you may be facing snow flurries or sunshine this time of the year. But regardless of your locale, everyone can appreciate a getaway to somewhere tropical during the winter months. Especially us Skinnygirls. Here are some of our favorite winter vacay essentials:
Warm Weather Wear Anyone can rock a cool swimsuit, but a truly fashionable beach-look starts with the cover up. Calypso St. Barth, a boho-chic line inspired by the easy-breeziness of California, has maxi dress, flowy skirts and tunics to die for. Our favorite has to be the Marianna Chiffon Tunic. This sheer, feminine and versatile top goes with any skin tone and will take any vacation look from watery and weak to sexy and chic.
Feel Your Toes in the Sand It doesn't matter what hemisphere you're in, a Skinnygirl must always rock a fierce pair of shoes. Let that pedi sparkle in the sun with Bali Soles Sandals, an under-the-radar line of open-toe kicks that combines the spirit of Indonesia with the glamour of Hollywood.
Protect Your Visage Everyone loves a deep tan, but no one loves deep wrinkles. But it is your vacation after all, so it's time to bask in the sun. We recommend dousing your precious skin not with SPF 15, but with the big 5-0. Lancome's Bienfait UV SPF 50+ is a lightweight, oil-free, non-comedogenic sunscreen that offers broad spectrum, SPF 50, UVA/UVB protection and glides on smoothly for a matte-finish.
Capture the Moment Digital cameras are so 2011. Flip cameras are the wave of the future, so skip the "still life" and create some "real life." FlipVideo cameras, known for their wicked-awesome HD capabilities, recently launched a line of cameras with designable cases you can create yourself. Because what's cooler than a tech-savvy Skinnygirl? A stylish tech-savvy Skinnygirl.