Winter Party Makeup Trends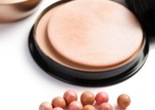 Whether you're hosting the holiday party of the season or heading to a festive workplace gathering, change up your makeup palette to try something new! The year's hottest makeup trends include lots of glitter, sparkle, and shimmer, and there are dozens of ways to glam up your look for that special event. The key to making your look work is to choose just one feature to highlight. Whether it's your cheeks, eyes, lips, or just your nails, go all out in only one area for a chic and stylish look. Decking out too many features with all that sparkle and shimmer will definitely be overkill.
Here are three of your best bets for party makeup this season:
1. Glitter Eye Shadow
If you're already a fan of metallic eye shadow, you won't have to venture too far out of your comfort zone to add some glitter to the mix. If you're a neutrals kind of gal, push the envelope with a bold, glittery hue on those lids! Gold and silver eye shadows with large flecks of glitter will draw attention to those eyes and brow area, and can be a fun way to go glam this season. If you're doing the smoky eye look for the party, plan on lining your eyes with a thin sweep of glitter shadow on the upper and lower rims. This will add a sparkly twist to an otherwise sultry look, and can be a great way to pump up the glam factor. Play with dark blue, forest green, burgundy or dark purple glitter eye shadows for the ultimate party look!
2. Shimmering Lip Gloss
Cranberry-colored lip gloss and shimmery chocolate colors are perfect for the holiday party season. These are among the most versatile colors to play with for the holidays and will give you that star-inspired look you want. Go with shimmering lip gloss that's a shade lighter or darker than your natural lip color for a more subtle touch. If you want something more glamorous - and are keeping the rest of your makeup pretty neutral - stick with darker shades like rich cherry, deep cranberry, and bronze.
3. Bronzers and Highlighters
One of the best ways to change up your makeup look from day to night is to use a shimmering bronzer or highlighter. Shimmering bronzer on your cheekbones and your décolleté will warm up your look in a flash. A highlighter or illuminating powder infused with specks of glitter can be another way to make your skin look polished and smooth. Use these makeup products to create contours and glam up your look for that special event.
Content by Sabah Karimi.