Winter Meal Food and Beverage Pairing for Ladies Night - Antipasto & Skinnygirl White Cranberry...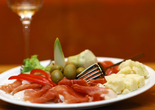 Whether having a movie night with your best friend or an evening of chatting with a group of ladies, stick with the classics when you plan your cocktails and nibbles. Winter foods and cocktails don't have to be heavy and fattening and you might enjoy a tropical summery treat as a break from the winter blahs. Pair this antipasto with crispy bread sticks served in a tall glass or vase along with your favorite Skinnygirl cocktail (we recommend the new Skinnygirl White Cranberry Cosmo) and you have an easy-to-make platter of nibbles leaving you more time to visit with the girls!
Antipasto Platter for the Ladies 3 medium carrots
2 stalks celery
2 medium sweet bell peppers (choose red, orange or yellow for color!)
1 small yellow squash
1 small green zucchini squash
1 pound olive bar mix including olives, pepperoncini and roasted peppers
8 ounces fresh mozzarella, well-chilled
4 ounces firm goat cheese, well-chilled
2 Tablespoons bottled balsamic vinaigrette (if desired) Fresh basil, curly parsley or kale for garnish
Wash the vegetables and peel the carrots. Cut the carrots, celery, peppers and squash into thin strips about 3 inches long. Arrange the vegetables on a large serving platter.
Place the olives in the middle of the platter and arrange the pepperoncini and roasted peppers between the fresh vegetables.
Thinly slice the chilled cheeses and arrange with the vegetables. Drizzle the platter with the vinaigrette, if desired, and garnish to serve.
Content by Debbie Henthorn.