Video - How to Throw an Impromptu Party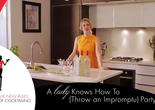 A lady's life is always unpredictable, so as you know it's best to be prepared for anything. We've all got that neighbor who likes to show up unannounced, or our group of gals who never need to call ahead, and luckily Skinnygirl® Cocktails are perfect for even the most last-minute lady!
The next time you need to entertain unexpectedly, you can refer to our latest Skinnygirl® Cocktails Guide video on throwing an impromptu party. The trick to effortless entertaining is to always make it appear that you were well-prepared in advance – a skill our resident mixologist, Revae Schneider, has perfected and can share with you!
Simply remember to keep a bottle of your favorite Skinnygirl® Cocktails on-hand at home and you'll be perfectly prepared for any occasion. From a mid-day drink with the gals to an all-night affair, no guest list is complete without Skinnygirl® Cocktails.