Make your holiday party the holiday party of the season by planning a get together...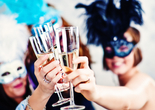 Make your holiday party the holiday party of the season by planning a get together your guests will never forget! When it's time to play party planner, it's all about the details. From putting together the guest list, to picking out the perfect invitations and designing a gourmet menu, brainstorm some creative ideas to make sure your event goes off without a hitch.
Use these six tips to throw a memorable holiday party (or two!) this season:
1. Choose a fresh theme. Make your party truly unique by choosing a creative theme. Instead of just a traditional Christmas or New Year's celebration, incorporate another theme such as a masquerade ball, mystery dinner event, black and white theme or something similar. Make sure you include details on how guests can participate in the theme and plan your menu, invitations and decorations around it.
2. Design your own invitations. Use online tools to design custom invitations that fit your theme or purchase custom invitations that you send out via snail mail. Real versus electronic invitations will make your party more "official" and can also give it that VIP factor. Use a template to make things easier!
3. Make your own party favors. Whether they're edible or collectible, make your own party favors so that guests can remember this special event and enjoy something new. Set up a separate table just for party favors and snap some pics of your hard work! A beautiful presentation of custom candles, personalized cupcakes, goodie bags and other small gifts can make your event that much more memorable.
4. Hold a contest. Host some type of competition or contest so that guests have an incentive for attending and also show off their special talents or skills! Make sure to highlight what the contest and prizes are right in the invitation and have your guests sign up separately to participate.
5. Coordinate a tasting. Are most of the attendees wine, chocolate or cheese lovers? Host a tasting event before or after the main meal so that guests can try something new. This can be a great ice-breaking activity for people who don't know each other and will create plenty of memories this season.
6. Generate buzz. With the help of Facebook and other online event planning tools, it's fun and easy to get people excited about an upcoming event. In addition to sending paper invitations, send out virtual invites so you can send everyone on the guest list a friendly reminder about the upcoming event in minutes. Having a running guest list available on Facebook can also generate some excitement within your social circles and spark some conversations between people who don't know each other (yet).