The Skinnygirl Cocktails Guide to Bridesmaid Dresses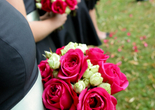 It's not their big day, but that doesn't mean your bridesmaids should get stuck sporting something less than fabulous! A lady, after all, shares the spotlight…to a point. Your best girls should look gorgeous. (OK, not as gorgeous as YOU). Afterall, it's going to be expensive, even for them, so why not select a dress that they can afford, and actually wear again? A lady, whether she's the bride or not, is always resourceful.
Skinnygirl® Cocktails is all about exploring options and finding what works perfectly for you. So, when it comes to selecting a bridesmaid dress, it should be no different. And the great thing about today's modern wedding world is that you can find off-the-rack designs at stores like J.Crew, Lula Kate and BHLDN, which all feature lines great for every body type, budget, and most importantly, the type of Skinnygirl® Bridesmaid that she is.
And what better way to treat your girls than with a matching Skinnygirl Cocktail as part of their bridesmaid gift?! We've done the honors of helping you find the right dress…and the right drink!
For the Classic Skinnygirl Bridesmaid (Skinnygirl™ California Red Blend) J.Crew has a large selection of simple yet elegant bridesmaid dresses, versatile enough for everything from an upscale, black tie affair to a more casual, outdoor gathering. One of our favorite things about J.Crew's collection is the dresses are available in many different colors and are broken down into fabric content, available in silk taffeta, silk chiffon, cotton taffeta, organza, silk tricotine and satin. (You know how Skinnygirls love their closet full of choices...) You can't go wrong with the classic look of J.Crew or the classic Skinnygirl California Red Blend – it's the perfect combination! (http://www.jcrew.com/wedding/Wedding_Bridesmaid/bridesmaidpartydresses.jsp)
For the Fashionista Skinnygirl Bridemaid (Skinnygirl™ White Cranberry Cosmo) Lulu Kate features a variety of dress types in the same fabric. With this line, your style-obsessed friend can truly play the role of her own designer, or as we like to call it, a "Fashion Fixologist." She can mix and match the tops and bottoms of the dresses to create her perfect dress. However, we would suggest having your bridesmaids wear the same color, for an overall tasteful look. Your fashionista look is complete with a Skinnygirl White Cranberry Cosmo in-hand. It's the perfect drink for your fashion-forward bridesmaids. (http://lulakate.com/collections/bridesmaids/)
For the Bohemian Skinnygirl Bridesmaid (Skinnygirl™ Tangerine Vodka) BHLDN (Anthropologie's wedding fashion brand that stands for "Beholden") features amazing, fashion-forward dresses drawing on antique styles, the 1920s and super-feminine appeal. They are also known for their incredible line of vintage inspired accessories, one-of-a-kind shoes and unique gift ideas. The off-beat appeal of this vintage look will pair perfectly with the unique flavor of Skinnygirl Tangerine Vodka. (http://www.bhldn.com/shop-bridesmaids-partygoers-dresses/)
This is going to be the biggest day of your life, so enjoy every minute. And remember, a Lady Drinks Responsibly…even on her "big day".
©2012 Skinnygirl Cocktails, Deerfield, IL; Avg. Analysis: All Products: Protein 0g, Fat 0g; Vodka with Natural Flavors (per 1.5 oz.): Calories 75.8, Carbs 0g; Cocktails (per 1.5 oz.): Calories 35.5, Carbs 1.8g; Sangria (per 5 oz.): Calories 132, Carbs 22.5g; Wine (per 5 oz.): Calories 100, Carbs 5g