The Skinnygirl® Cocktails Guide to Getting your Closet Ready for Spring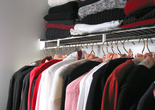 With spring just around the corner it's time to stop trying to cram in another hanger and clean out that bulging closet! A just like each item in your wardrobe plays a specific role in creating the perfect outfits, we think that your bar should act the same. With new Skinnygirl™ Vodka with Natural Flavors and Skinnygirl™, The Wine Collection and Skinnygirl® Pina Colada – there's a cocktail for you no matter what your mood is! And the best way to clean out and organize your closet in the springtime is always cocktail in hand.
Set Your Priorities Straight
What kind of clothing do you need most? Work clothes, going out clothes, or casual clothes? Think about what type of clothing you wear most often and what closet staples you wear all the time. This will help you determine what you may need to shop for when you're done purging your closet and it's time to fill in the gaps.
Categorize
As you work through and organize your closet, divide the clothes into sections or piles. The Keep Pile – things that you like, that fit and make you feel good, The Giveaway Pile – things that are in good shape but don't meet the criteria for the keep pile, and The Toss Pile – these items have no use anymore as they are stained, ripped or ruined. Having a fellow Skinnygirl there to help with this part of you closet organization project is a great idea – it's always easier to have a second opinion from a good friend.
Make a List
Based on the priorities you set what do you need more of? Do you have all the essentials? Is there anything special you want to add to your wardrobe for this season? Making a list not only makes you more productive, it helps keeps you from buying unnecessary items just for the sake of shopping.
Host a Clothing Swap
If you have items from your Giveaway Pile that you think another friend might like, host a girls night in clothing swap! This is a great excuse to get the gal pals together for a Skinnygirl Cocktail, get rid of some of the clothing you no longer want and gain some you do!
Let's Go Shop
Now that your closet organization project is complete, get out that list you made earlier and fill in the holes you need to perfect your wardrobe. But be sure to make a budget before you head out to ensure that you're not spending more than you planned on this season's duds.