Thanksgiving - Save Money on Food and Entertaining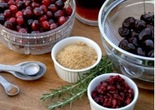 Thanksgiving is the perfect time for hosting that special family get together. But hosting a dinner to feed 30 people can be both stressful and expensive. With the increasing popularity of competitive cooking shows today, why not host your own competition and get all your guests involved? This exciting theme can save you time and money without scrimping on fun! Here's how.
1. Put together a simple, traditional Thanksgiving dinner menu that does not require long cooking or preparation times (minus the turkey, of course)! Think: mashed potatoes, rolls, stuffing, cranberry sauce, salad and pie. Then, assemble your ingredients list for that menu. Print the name of each dish, along with the ingredients used in it, on an index card. Do not include the recipe or the quantities.
2. Following the same format as above, do the same thing for one adult and one non-alcoholic beverage.
3. In your invitations, tell your guests this get together will be interactive. Assign each one or more food or drink items they must bring from your ingredients list. For instance, you might ask them to bring along one pound of fresh ground sausage or their favorite bottle of Skinnygirl. Be sure to assign everything on your ingredients list.
4. Divide your guests into teams and involve everyone. Be sure to put children or non-cooks with someone who is the primary cook in their family. Have one team for each menu item. Be sure you have adults only on your adult beverage team.
5. When your guests arrive, announce their teams and have one member from each team pull an index card from a pot. That will be the dish or drink they will need to prepare.
6. Announce what time dinner needs to be on the table. This will be the deadline for each team. Since there are no recipes, each team will be required to wing it, but must use all the ingredients on the index card.
7. Provide some additional items like garnishes, herbs, spices, etc. that all teams have access to. If you have some team members who really don't seem to want to participate, give them the option of being a dishwasher or gopher.
8. After dinner, everyone will vote on whose dish or drink was presented the best, was most creative, and tasted the best. If you like, you can provide prizes from the clearance section of your local dollar store.
Content by Cherri Megasko.