Swoon-worthy (and Skinnygirl Cocktails-approved) Fall Fashion Trends
...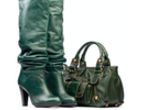 Asking us to choose our favorite fall trend is like asking us to choose our favorite Skinnygirl® Cocktail: it's simply not possible. But ask us which Skinnygirl® Cocktails we'll be sipping this fall, and suddenly we're inspired! Check out our array of fall-inspired outfits to match our ladylike tastes.
Exotic Floral Prints This past spring, floral burst onto the fashion scene detailed with pastels and peonies. But flower fanatics can ditch the dainty and go edgier this fall with dark, dense patterns. Find blouses, dresses and jackets adorned with winter-inspired cherry blossoms, opulent shapes and richer shades. When it comes to pulling together your intense look, opt for smoky eyes, dark nail polish and top off your look with our favorite accessory of all, a glass of our Skinnygirl™ California Red Blend, to go perfectly with the shade, the mood and the spirit of this sexy new trend.
The Full Skirt Pencil, maxi or mini. Chances are your closet is stocked with at least a couple of the aforementioned. But this fun and femme fall trend calls for a different kind of balancing act for your bottom half. The full skirt is feminine without being girly, structured with a touch of movement and, best of all, embraces every Skinnygirl's "true waist." We suggest playing up fall colors donning burnt orange to make a statement while you sip on a cocktail made with our Skinnygirl™ Tangerine Vodka.
Leather This look is less "biker chick" and more "city-chic." This fall, leather is seen more supple and versatile,worn like a true everyday fabric as opposed to amomentary fashion novelty. Keep it wearable, practical and even feminine with neutral shades, girly-cuts (a la the full skirt?) and professional pairings (like blazers and big belts). But don't let leather's softer new vibe make you any less apt to rock it out…like a lady, of course. Shake up our Skinnygirl™ Bare Naked Vodka over ice with some of your favorite natural juices and mixers to create a cocktail that, just like your leather look, is as original as you are.
Winter White The post-Labor Day taboo is long gone and in true defiant form, this year's runways of NYC's fashion week celebrated this color in every variation. You can celebrate too! Experiment with different shades, from cream to oyster to parchment, and in spirit of the cooler season, play with knits, textured fabrics and shameless layering. And what Skinnygirl® Cocktail goes best with this ethereal color? You guessed it: top off your winter white look with our Skinnygirl® White Cranberry Cosmo, clearly delicious, deliciously clear and…spill-resistant. Because cocktail stains are definitely not in this year. Cheers!
A Lady Always Drinks Responsibly.™
©2012 Skinnygirl Cocktails, Deerfield, IL; Avg. Analysis: All Products: Protein 0g, Fat 0g; Vodka with Natural Flavors (per 1.5 oz.): Calories 75.8, Carbs 0g; Cocktails (per 1.5 oz.):Calories 35.5, Carbs 1.8g; Sangria (per 5 oz.): Calories 132, Carbs 22.5g; Wine (per 5 oz.): Calories 100, Carbs 5g