Get ready to have some fun in the sun! From chic soirees to splashy waterside bashes, Skinnygirl® Cocktails has everything you need to add some sizzle to your outdoor bash.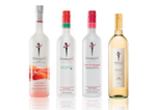 Summer SIPS & TIPS
Get ready to have some fun in the sun! From chic soirees to splashy waterside bashes, Skinnygirl® Cocktails has everything you need to add some sizzle to your outdoor bash.
ENTERTAINING TIPS STYLISH SIPS LIGHT BITES
OUR GIRLS OF SUMMER
Kick off summer with our new girls:
Our hot foursome has it all!
GLAM UP YOUR GLASSWARE
Paper cups? Not at your party! Get into the summer spirit with charming mason jars, rimmed with everything from sprinkles to fresh mint. Deck out your glasses with playful straws in vibrant hues and patterns like polka dots and stripes, along with pretty ribbons adorned with nametags to ensure your ladies won't lose their drinks. As a bonus, the multipurpose jars can double as décor, like shabby-chic candleholders and vases, or adorable individual serving dishes.
Can't get away? Take a stay-cation instead! Accessorize your cocktails with tropical touches like umbrellas, palm tree swizzle sticks, hibiscus petals and star-shaped pineapple. And here's a smooth pouring move: Pre-mix drinks in a fresh fruit-filled pitcher for even sweeter sips. Another instant upgrade: ditch plastic cutlery in favor of far classier bamboo sets. See, you can entertain with elegance, even outside! – back to top
KEEP YOUR COOL
The best way to beat the heat: stay hydrated with plenty of water. Encourage your girls to drink up by adding in cucumber slices, berries or mint. And let your ladies catch a summer breeze even on the driest of days by passing out handheld fans.
Other essentials: hot-hued towels, so your beach buddies can easily spot you on the sand; a picnic blanket large enough to fit your girls and your grub; the latest juicy read; trendy shades; a sarong and cardigan for an effortless day-to-night transition; and of course, a lady's BFF: SPF! – back to top
SET THE MOOD
Create a fab outdoor lounge worthy of your ladies. For chic seats, pretty up patio furniture with an array of comfy, colorful cushions, and drape light blankets on top – trust us, your girls will thank you when temperatures drop.
Music can make – or break! – your bash. To get the party started, fill your playlist with girly summer anthems. And don't forget to bring portable speakers for beach getaways and grassy get-togethers.
A little mood lighting goes a long way. Get glowing after dark by hanging paper lanterns, creating candlelit pathways and stringing festive lights around trees. Another bright idea: place tealights inside empty Skinnygirl® Cocktails bottles for a crafty centerpiece. For a truly magical moment, end the night by lighting sparklers in unison with your girls. Now that you have the goods, get out there and make this a summer to remember with Skinnygirl® Cocktails! – back to top
Stylish SIPS
Want to make a big splash at your soiree? Try these twists on traditional ice.
Agave Lime-Mint Ice
Rock on with minty-fresh cubes! For the perfect pairing, add to our refreshingly cool Girl of Summer, Skinnygirl® Mojito. – back to top
INGREDIENTS:
2 tablespoons agave nectar
2 limes
1 cup of water
Fresh mint
DIRECTIONS:
Extract juice from limes and combine with other ingredients. Pour mixture halfway into ice cube tray and freeze. Once solid, place a single fresh mint leaf over each cube. Cover with water and refreeze. Remove when frozen and add to cocktail. Garnish with fresh mint.
Frozen Grapefruit Garnish
This glam garnish can freshen up any cocktail without watering it down. Pair with our tangy Girl of Summer, Skinnygirl® Sweet 'n Tart Graperuit Margarita. – back to top
INGREDIENTS:
DIRECTIONS:
To segment grapefruit, begin by cutting off top and bottom with a paring or chef's knife and place on cutting board. Cut around grapefruit to remove rind. While holding grapefruit, cut between pith to remove each section. Lay segments flat in a glass freezer-proof container and freeze. Remove when frozen and add to cocktail. Garnish with a fresh grapefruit slice.
*Note: You can also buy ready-made grapefruit segments in the produce section.
Skinnygirl™ White Cherry Pops
Chill out with these stick-y sweet icy treats. – back to top
INGREDIENTS:
3 parts fat-free cherry Greek yogurt
1 part Skinnygirl™ White Cherry Vodka
1 part pitted, chopped sweet cherries
DIRECTIONS:
Combine yogurt and vodka and stir in chopped cherries. Freeze in your popsicle maker of choice or in a 5 oz. paper cup with a popsicle stick.
a class="anchor" name="light-bites">
Light BITES
Whether you pack a picnic or host a cookout, these delish eats will fill you up without weighing you down.
Corn and Black Bean Salsa
This tasty crowd-pleaser can spice up any soiree. – back to top
INGREDIENTS:
1 pint cherry tomatoes, roasted for 20 minutes at 350 degrees
1 tbsp. olive oil
2 shallots, thinly sliced
½ white onion, thinly diced (¼ inch)
2 tbsp. fresh lime juice
½ cup black beans
½ cup corn
½ tsp. cumin
½ tsp. cayenne pepper
Salt and pepper to taste
DIRECTIONS:
Heat olive oil in a skillet and cook shallots and onion over medium heat until translucent. Remove and set aside. Place ½ of the roasted tomatoes in a blender with lime juice, cumin, cayenne and onions. Blend until combined, but not completely pureed. Add in lime juice, black beans, corn and remaining tomatoes. Pulse 2-3 times until well-combined. Adjust salt and pepper to taste. Serve with plantain chips.
Sweet 'n Sassy Mango Salsa
Prepare to bring the heat with this mouthwatering mix. – back to top
INGREDIENTS:
1 ripe mango, peeled, pitted, and diced (about 1½ cups)
1 cup pineapple, diced
1 cup cherry tomatoes, diced
1 English cucumber, diced
1 jalapeño chile, minced
4 shallots, minced
½ cup cilantro, minced
2 limes
Salt and pepper
DIRECTIONS:
In a large bowl, combine mango, pineapple, tomatoes, cucumber, jalapeno, shallots and cilantro. Squeeze the juice of two limes over the fresh mixture and stir to combine. Salt and pepper to taste. Serve with plantain chips.
Grilling with the Girls: Grilled Salad Recipe
Want to glam up your barbecue? Grab some greens and get your grill on with the girls! – back to top
INGREDIENTS:
For the salad:
1 head of romaine lettuce
1 bag (12 oz.) shelled edamame
½ cup dried cranberries
½ cup Marcona almonds, chopped
2 ounces shaved Parmesan Cheese
Olive oil for grilling
Salt and pepper
For the miso vinaigrette:
2 tbsp. white balsamic vinegar
1 tsp. light or white miso paste
½ tsp. soy sauce
½ tsp. Dijon mustard
¼ cup olive oil
Salt and pepper
DIRECTIONS:
For the Miso Vinaigrette:
Combine first four ingredients and whisk together. Slowly whisk in olive oil. Adjust salt and pepper to taste.
Assemble the salad:
If you use frozen, shelled edamame, first rinse under hot water in a colander for at least 30 seconds. Set aside. Cut the head of romaine lettuce into fourths, making sure the core remains intact. Brush your medium-hot grill with olive oil, and arrange each quarter of romaine lengthwise across the grate so it lays perpendicular to the slats. Sprinkle with salt and pepper. Grill each side for about 45 seconds, turning once with tongs. Remove from grill to a cutting board. Cut out core and divide lettuce onto four salad plates. Top each plate with ¼ of edamame, cranberries and almonds. Shave ½ ounce of Parmesan cheese onto each salad. Serve with miso vinaigrette.