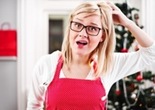 If you're playing host this holiday season, make sure you're not too stressed out and frazzled before the big party. Event planning and entertaining can be one of the many highlights of the season but can also leave you fretting about every little detail. If you're not the planner type, the idea of entertaining could be stressing you out and even make the holidays less than enjoyable. Make the most of your hosting duties by planning ahead and even delegating some tasks to a professional.
Use these stress-free entertaining tips to pull off that party without a hitch:
1. Leave the cooking to the professionals. If you're not a pro in the cooking and baking department, consider hiring help for the catering and cleanup - especially if you're planning to entertain more than 10 guests this season. Local catering companies can deliver the perfect menu and set everything up on a buffet table well before guests arrive. All you have to do is make some space for the food and drinks, and get ready for your holiday event.
2. Go low-key with decorating. You don't have to be an event planner or interior decorator to create an eye-catching table presentation or spruce up the place with holiday décor. Take a low-key approach to decorating so the focus is more on the company - not the environment. Guests will appreciate a few simple touches rather than an over-the-top centerpiece or other décor that took you hours to put up. Most will be so busy enjoying the company that they won't even notice the minuscule details you end up fretting over!
3. Don't schedule anything else on party day. Avoid the temptation to overbook yourself with salon appointments, errand-running trips or anything else outside the home on the day of the event. Doing so will eat up your party prep time and you might feel even more stressed out closer to the time of your party.
4. Relax with a cocktail. Calm those frazzled nerves and get into the party mood with a light cocktail. A glass of your favorite Skinnygirl could be just what you need to settle down and relax. If you don't drink alcohol, treat yourself to a small piece of dark chocolate or a soothing cup of hot tea for similar benefits.
5. Be party-ready at least an hour before guests arrive. Don't leave anything until the last minute or you could end up racing against the clock as guests ring the doorbell. Plan on leaving a one-hour window completely open before the party so you can just relax and do nothing for a while. Have everything ready - the table settings, the food, the music, and the final touches on the décor - at least an hour before the party officially starts. Some guests might end up arriving early and you don't want to be too busy to greet them.
Content by Sabah Karimi.