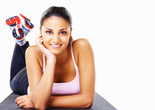 When it comes down to working out, we at Skinnygirl feel your pain. Sometimes we're just plain not in the mood, either. But we've discovered that a dash of sporty style puts a pep in our step, inside the gym as well as out. So we've searched high and low to find the hippest, brightest and most fashionable workout gear to make you feel not just fierce, but a little fabulous too. Happy sweating, Skinnygirl style.
The Lululemon Stride Jacket It's our firm belief that every girl needs one of these in her workout wardrobe. Whether you're running to and from your yoga class, or outside with a running buddy, this long-length hoodie covers your rear while slimming you down and that alone makes it a staple in any girl's closet. We dig the Pink color. Why? Because pink is a shade of red, and red is the Skinnygirl power color. Just ask Bethenny.
Complete Velosis III Women's Running Shoes by Puma When it comes to colorful kicks, no one does them quite like Puma. The brand carries an array of designs: from sneakers for everyday, to ballerina flats for lounging, and even flip-flops for the beach. But we've got our eye on these lightweight running shoes, which not only provide support, flexibility plus DuoCELL cushioning and ArchTec support for shock absorption, they've got an edgy, street-to-treadmill style we adore.
The Odette Skirt from MeSheeky There's something about the entire MeSheeky line we're slightly obsessed with. The dancer-inspired collection provides so many versatile and feminine pieces that we had a hard time choosing a favorite. From bell-bottom yoga pants, pretty camis and yummy knits, welcome to a lady's work-out-gear-heaven. But it's the line of MeSheeky's skirts, specifically the Odette, with its sexy little side cinch- that sets it apart. Throw it over any sporty outfit for a dash of fun color (there are six to choose from) and an instant fashion-forward upgrade.