Sparkly NYE Dresses Under 75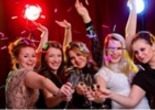 New Year's Eve is the perfect time to glam up your look with a sparkly dress and super-high heels. It's the one time of year where you can break out of your comfort zone and play with glitter, sequins, metallic, and all things shiny! Whether you're hitting the dance floor, enjoying date night with the beau, or just plan on people-watching with the crew this New Year's Eve, here are some of your best picks for dresses - and all under $75!
For the Girl's Night Out: Metallic Tunic Dress
Tunic dresses are still among the hottest trends in the style department this season and can be a great match for that New Year's Eve get-together with the girls. Whether you're heading to the clubs or making an appearance at a series of parties, this comfy and stylish dress is in line with the season's trends and will show off your playful and flirty side - it's also one of the most comfortable dresses to wear when you're hitting the dance floor! Go for something like this yapyap metallic tunic dress with obi belt for just $65.
For the Hotel Ballroom Bash: Elegant Gown
This type of New Year's party is the perfect excuse to go super-glamorous and show off your sense of red carpet-inspired style. A bold red, purple, or navy blue gown embellished with sequins or a long, black off-shoulder dress are all great matches for this more elegant affair. Try on something like this Adrianna Papell One Shoulder Jersey Gown that's embellished with sequins along the side, on sale for $73.90 from Nordstrom.
For a Sexy Date Night: Embellished V-Neck Dress
If a sexy date night is the forecast for New Year's Eve, go with a figure-flattering embellished v-neck dress. Remember to stick with a fit that's right for your body type and you'll feel both comfortable and confident. Try something like this embellished v-neck dress from Gap for $69.95 and pair it with some patent leather ankle-strap heels.
For a Night on the Town with the Crew: Sequined Little Black Dress
When you're heading out with a large group for New Year's - and don't know where the night will take you - stick with a sparkly little black dress and high heels. The LBD is always your safest bet when you don't know which parties you'll be attending. Glam things up with a sequined version for your New Year's celebration. Pick up something like this Velvet by Graham and Spencer Kenna Ikat Sequin Dress for just $64.75, a shimmering little black jersey dress with sequins.
Content by Sabah Karimi.