A Skinnygirl Closet Full of Spring Fashions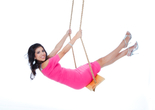 It's fair to say Spring has sprung! We at Skinnygirl not only love the fashionable newness of the sunnier season, but also its perfect timing with all of our fabulous new Skinnygirl products! In just a few short months, you will have a closet full of wine, vodka and cocktail options to match your closet full of new spring styles.
So first things first: let's play dress up with 2012's hottest spring trends.
Neon Spring runways were more colorful than the crowd at a Lady Gaga concert. Bold, solid-color neon pieces lit up NYC Fashion Week this season. Mix and match pieces like an electric blue cardigan, a neon green skirt, a hot pink skinny belt, or a fun bright orange clutch to make simple dressing look glam. Pair a couple colors together for an even more fashion forward statement: color-blocking. Our Skinnygirl style tip: stick to three colors max to avoid the girly, Rainbow Brite look.
Bold, Graphic Prints Maybe it was the whole Missoni for Target craze that inspired designers this year, but these funky designs are showing up on frocks, jackets and skirts galore. In NYC's recent fashion week, dresses in gigantic geometric circles and sharp, angular stripes, plus a slew of bright, zig-zag prints rocked the runway. We're thinking that these colorful and crazy graphic prints are going to be exactly what we need after months of slush, snow and cold…that, and a glass of Skinnygirl Pina Colada.
Florals Spring 2012 is taking a big departure from last year's trends of masculine looks like military-inspired pieces, boyfriend jeans and angular cuts. Instead, everything's coming up roses (and daffodils, and orchids, and daisies) for spring this year. Head to toe floral prints were all over the runways (and now in your nearest boutique!). Always flirty, pretty and appropriate for spring, florals add a feminine touch to everything you wear. Our tip: if floral prints aren't your thing, try a flower inspired accessory like a cocktail ring, statement necklace or a fun headband.