Red Carpet Trends to Try Now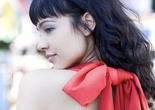 No stylist? No problem! You don't need a celebrity-sized budget to don the hottest red carpet trends.
METALLICS
The easiest way to shine this awards season? Wear metallics! Add some sparkle with glittery gold gowns or silver sequins. Too much heavy metal for your taste? Skip the red carpet fashions and swipe some shimmery eye shadow on your lids or opt for a bronze-hued mani with this coppery shade instead.
CUT-OUTS
Flash some unexpected skin with strategic cut-outs, like this peek-a-boo frock. To keep it classy, choose a longer hemline, or wear a mini with tights. For even more edge, accessorize with bling and a pair of booties or strappy heels. Feeling over-exposed? Dive feet first into this popular red carpet trend instead with cut-out heels.
PEPLUM
Think peplum is too daring? This ladylike red carpet look is actually a cinch – of the waist at least! – to pull off with a few of our pointers. Keep it sweet by adding in lace, floral or bow details. Or to infuse our signature Skinnygirl® Cocktails sass, toughen up with a leather jacket or studded accessories. The keys to a flattering fit: avoid pairing peplum with loose shirts and skirts, and pay attention to where the ruffle hits to make sure you're accentuating the positive. Pair a flouncy top with a pencil skirt or skinny jeans to create just the right curve, or combine a fitted button-down with a tiered skirt. Another idea: try a fresh take on the classic LBD with this versatile number.
LADY IN RED
From nails and lips to gowns and carpets, this years' red carpet fashions are all about Skinnygirl® Cocktails' signature color: red, of course! Brighten up an all-black ensemble with a burgundy lip stain or these oxblood platforms. Feeling bolder? Don a floor-length brick-hued stunner with a pair of gilded heels. For a fun-and-flirty feel, sparkly crimson mini-dresses work, too. And when you spot a scarlet-clad star at an awards show, you score extra points for your Skinnygirl® Cocktails Celebrity Fantasy League. Yet another reason to paint the town red!
A Lady Always Drinks Responsibly™
©2013 Skinnygirl Cocktails, 510 Lake Cook Road, Deerfield, IL; Avg. Analysis: All Products: Protein 0g, Fat 0g; Vodka with Natural Flavors (per 1.5 oz.): Calories 75.8, Carbs 0g; Cocktails (per 1.5 oz.): Calories 35.5, Carbs 1.8g; Sangria (per 5 oz.): Calories 132, Carbs 22.5g; Wine (per 5 oz.): Calories 100, Carbs 5g