Quick and Easy Holiday Treat Recipes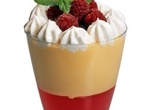 The holidays provide us with a wonderful opportunity to exercise our imaginations and show off our culinary creativity. Ordinary snacks become works of art and even the most gastronomically-challenged among us can become gourmets for a day. Here are three embarrassingly-easy holiday treats sure to be the envy of even the most accomplished culinary critics.
Holiday Gelatin Parfaits
Beautifully decadent yet easy on the waistline, these popular parfaits are good for guests of all ages. Gelatin can be made in advance. Total assembly time: 20 minutes Ingredients:
1 small package sugar-free green gelatin dessert mix
1 small package sugar-free red gelatin dessert mix
4 cups non-fat, non-dairy whipped topping
1 cup crushed green and red candy canes
Directions:
1. Prepare gelatin desserts in advance.
2. With a spoon, stir each of the gelatin mixtures individually until broken into small pieces.
3. Add one cup whipped topping to each gelatin and gently stir to incorporate lightly.
4. Spoon a small amount of the green gelatin mixture into 8 clear parfait glasses.
5. Next, add a layer of the plain whipped topping.
6. Follow with a layer of the red gelatin mixture.
7. Continue pattern until glasses are full, ending with whipped topping.
8. Sprinkle with the crushed candies.
Faux Gingerbread Cheesecake Tarts
These scrumptious treats will impress even your most critical coworkers. Wrappers can be baked a day in advance, but filling should not be added until shortly before serving. Total preparation time: 25 minutes
Ingredients:
24 wonton wrappers
1/2 cup brown sugar
1 cup cream cheese, softened
1 cup whipped cream
1 cup crushed ginger cookies
Directions:
1. Preheat oven to 350 degrees F.
2. Gently position one wrapper into each section of a mini muffin tin.
3. Sprinkle with brown sugar.
4. Bake for 10 minutes, or until lightly browned.
5. Mix the cream cheese, whipped cream and crushed ginger cookies until light and fluffy.
6. Once wontons are cooled, remove from tin and fill with ginger cream mixture. Sprinkle with brown sugar.