What's one springtime activity we love? Picnicking! With fresh air and good friends, there's no better way to spend a weekend afternoon, so pack your favorite cocktail and these light bites.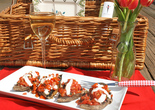 What's one springtime activity we love? Picnicking! With fresh air and good friends, there's no better way to spend a weekend afternoon, so pack your favorite cocktail and these light bites.

FRESH TOMATO BASIL BRUSCHETTA OVER PORTOBELLO MUSHROOMS

You won't miss the bread in this bruschetta. Portobello mushrooms make a healthy, low-carb, wheat-free alternative.

INGREDIENTS:
SERVES 12
6 plum (Roma) tomatoes, seeded and chopped
2 tbsp. extra-virgin olive oil
1⁄2 red onion, chopped finely
4 cloves garlic, minced
2 tbsp. balsamic vinegar
3 tbsp. fresh basil, torn
1 tbsp. Parmesan cheese
1⁄2 tsp. salt
1⁄2 tsp. pepper
6 large portobello mushroom caps, wiped clean, stems removed
Extra-virgin olive oil in misto sprayer
8 oz. fresh mozzarella, thinly sliced
DIRECTIONS:
Preheat oven to 425°F. In a large bowl, combine tomatoes, olive oil, onion, garlic, vinegar, basil, and Parmesan cheese. Add salt and pepper and mix well. Slice each mushroom cap in half, leaving two half circles, and place on a baking sheet sprayed with nonstick cooking spray. Lightly spray each portobello mushroom cap with misto sprayer filled with olive oil. Bake for 5 minutes. Remove from oven. Spoon bruschetta mixture on each mushroom half. Top with mozzarella and bake for 2–3 minutes, more until cheese is melted. Serve warm.

GOLDEN PARMESAN CRISPS

If you have some leftover bruschetta, why not scoop it up with these delicious Parmesan Crisps, which are low-carb, gluten and wheat-free?

INGREDIENTS:
MAKES 12 CRISPS
2 tbsp. unsalted butter (more if necessary)
12 heaping tbsp. coarsely grated fresh Parmesan cheese
1 tsp. thyme
Freshly ground black or cayenne pepper, to taste
DIRECTIONS:
Heat butter in large fry pan over medium heat until it bubbles. Spoon cheese by tablespoonful onto butter, pressing down lightly with back of spoon to spread making 12 tablespoon-sized crisps. After about 2 minutes, turn and cook until both sides are lightly golden brown. Add more butter if necessary. Sprinkle with thyme, black pepper, cayenne, or both. Serve at once.

DEVILISH EGG-STUFFED CELERY

This is a different take on deviled eggs — you devil the whole egg. These are delicious and easy to make.

INGREDIENTS:
SERVES 12
6 eggs, hard-boiled, cooled in water, cracked, and peeled
2 tbsp. mayonnaise
6 drops Tabasco® sauce
1⁄2 tsp. freshly ground white pepper
1 tsp. celery salt
1 tbsp. Dijon mustard
2 tbsp. chopped onion
1 clove garlic, chopped
1 tsp. salt
2 tbsp. half-and-half
4 stalks celery, washed and cut into thirds
DIRECTIONS:
Place all ingredients except celery in a food processor and blend until smooth. Spread resulting mixture into the celery and cover with foil or plastic wrap and chill for 1 hour. Add garnishes of your choice just before serving.
GRILLED PEAR-KALE SALAD WITH FETA CHEESE

No picnic would be complete without a healthy, delicious salad! Kale has even more vitamin C per serving than an orange! It's also packed with fiber, vitamins, minerals, and antioxidants.

INGREDIENTS:
SERVES 6
Juice of 1 small lemon
5 tbsp. grape seed oil, divided
1⁄2 tsp. coarse salt
1⁄2 tsp. ground black pepper
4 pears, halved and cored, Bartlett or Bosc work the best here
4 cups finely chopped curly kale leaves
1⁄4 red onion, finely chopped
1 tbsp. dried cranberries, unsweetened
1⁄4 cup walnuts
1⁄4 cup feta cheese
DIRECTIONS:
For dressing, whisk together lemon juice, 4 tablespoons oil, salt, and pepper in a small bowl. Set aside. Prepare grill to medium hot heat (you should be able to hold your hand an inch over cooking grate for 2–3 seconds). Make sure cooking grate is well oiled. You can also use a grill pan. Brush cut sides of pears with remaining grape seed oil. Put pears, cut-side down, on grill. Cover and cook until pear halves are grill-marked and heated through, about 10 minutes. Let them cool and slice into strips. In a large bowl, add kale, onion, cranberries, and walnuts. Stir to combine. Top with pears, feta cheese, and dressing.

Complete your picnic basket with a bottle of Skinnygirl™ California White Wine.

Article contributed by: Skinnygirl® Cocktails Insider Lauren Kelly of laurenkellynutrition.com

All recipes are obtained from her Everything Wheat-Free Diet Cookbook.

All trademarks are the property of their respective owners.