Mixing up a Spook-tacular Halloween with Skinnygirl...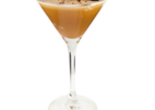 With fall in full swing, and Halloween just around the corner, ladies everywhere are on the hunt for the most spook-tacular ways to celebrate the season. A prize pair of fab fall boots? Check. Sunday football fetes perfectly planned? Check. A sassy (yet serious) Halloween costume? Check and check. But if there's one thing we're truly obsessing over during the "witching season", it has to be…pumpkin. This quintessential autumnal icon is popping up in our coffee drinks, inspiring our home décor and appearing at carving-party gatherings everywhere. And now, with the expert help of Skinnygirl® Cocktails, is making its deliciously divine debut into our cocktails.
Introducing the "Skinnygirl® Jack-O-Lantern", perfect for everything from those simple fall nights in, to your Halloween bashes with the girls.
Skinnygirl® Jack-O-Lantern
Ingredients:
• 1 ½ oz. Skinnygirl™ Bare Naked Vodka
• 1emphasized text oz. canned unsweetened pumpkin
• ¾ oz. fat free sweetened condensed milk
• ¾ oz. unsweetened almond milk
• ½ TBSP pumpkin pie spice
Directions: Shake with ice in a cocktail shaker. Strain into a martini glass. Garnish with fat-free whipped cream and a sprinkle of pumpkin pie spice.
Since the cocktail will satisfy your sweet tooth, we suggest serving it with a festive sweet-and-salty snack, like this healthy and hearty Halloween mix we LOVE! Start by buying a medium-sized pumpkin and carving out the innards. Recycle the seeds by including them in your snack!
Spiced Pumpkin Seeds:
Ingredients:
• 1 cup of rinsed pumpkin seeds
• 1 tbsp. olive oil
• 2 tsp. Paprika
• 2 tsp. Cayenne pepper
• 1 tsp. crushed red pepper
• 1 tsp. salt
Directions: In a large mixing bowl, pour olive oil over seeds and mix until all are covered. Add each spice individually, mixing between each one. Lastly, sprinkle salt in and put seeds on a wax-paper coated cookie sheet. Bake in an oven set at 425 for 20 minutes. While cooling, sprinkle with another dash of salt.
Candied Pecans:
Ingredients:
• 1 egg white
• 1 pound plain pecans
• 2 tsp. cinnamon
• ½ tsp. salt
• ½ cup sugar
Directions: Begin by whipping the egg white and pouring it over the pecans, making sure each is coated. In a separate bowl, mix salt, sugar, and cinnamon. Make sure it is well-mixed before throwing over the pecans. Grease a cookie sheet with butter and place the coated pecans on the tray in one layer. In an oven set to 300 degrees, bake the pecans for NO MORE than 20 minutes (or until browned). Let them cool on wax paper, then break apart any that may have melted together.
Once you have your baked goods prepared, mix them with a few handfuls of salted white popcorn or marshmallows for some flavorful variety. For serving, use the pumpkin that had been carved out as a festive dish.
So there you have it, ladies, Halloween recipes so healthy and hearty there's nothing scary about them! Leave room to enjoy some Halloween candy, and remember, A Lady Always Drinks Responsibly™!
Bare Naked Vodka: SkinnygirlTM Bare Naked Vodka with Natural Flavors, 30% Alc./Vol. ©2012 Skinnygirl Cocktails, Deerfield, IL (Per 1.5 oz – Average Analysis: Calories 75.1, Carbohydrates 0g, Protein 0g, Fat 0g)