Low-Cal Thanksgiving Sides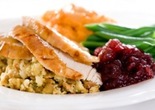 Thanksgiving is a celebration of food and family. Historically born to give thanks for a bountiful harvest, it continues to be an icon of American overindulgence. According to the American Council on Exercise, the average Thanksgiving dinner has 3,000 calories and 229 grams of fat. Yikes! For those of us trying to watch our waistlines, that's some super-sized temptation. There are ways however, to slim down some of our Thanksgiving accouterments so we don't have to feel so guilty about having that second helping of turkey or that piece of pumpkin pie. Here's how.
Mashed potatoes are typically made with lots of butter and whole milk, cream, or even cream cheese. All that extra dairy is loaded with fat and calories, and isn't necessary for a great-tasting dish. Instead, make "smashed potatoes" using margarine and skim milk sparingly. The end result will be a delectable potato side dish that's much lower in calories and fat.
Cranberry sauce is a staple at most Thanksgiving feasts. It's also a dieter's nightmare. The average brand of canned, jellied cranberry sauce contains 418 calories and 105 grams of sugar per serving! Talk about "waisted" calories! Why not take just a few extra minutes to throw some fresh cranberries in a pot with a little water and granulated sugar substitute? Just cook them gently until they start to fall apart, and then let them cool in the fridge for a few hours to allow the berries to absorb the sweetness of the syrup. This version has more texture, tons fewer calories, and tastes better, too.
Green bean casserole is another Thanksgiving tradition that is generally laden with fat and sodium. Canned soup and French fried onions may appeal to some, but fresh is always better in my book. Buy fresh green beans, blanch them until they are crisp-tender, and then toss them in a light sauce made from a little olive oil, sautéed onions, and a low sodium seasoning mix. You'll actually be able to taste the green beans!
Stuffing is probably my single favorite Thanksgiving food. The traditional way of making it however, is a carbohydrate and fat foul. To lightened it up, sauté large amounts of onions, celery and mushrooms in a little margarine until they just begin to collapse. Use that vegetable mixture to replace an equal amount of bread crumbs, and bake it all off in the oven with enough fat-free chicken broth to moisten. Don't stuff the bird with it, as that will add back in a lot of the fat you're trying to keep out.
Making these small changes in your Thanksgiving side dishes and pairing with a ligher cocktail option (like Skinnygirl Cocktails) will help make the holidays less heavy and free up room - both physical and caloric - for those Thanksgiving favorites we just can't do without. This year, be sure to save room for dessert!
Content by Cherri Megasko.