Kick Your Workout Into High Gear in 2012 - The Most Challenging Fitness Classes Around
...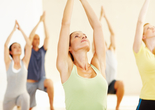 Kick Your Workout Into High Gear in 2012: The Most Challenging Fitness Classes Around
At Skinnygirl, we're all about balance. As Bethenny recently explained in her blog: "Don't make drastic resolutions and proclamations. They simply don't work." With the New Year in full swing, many people feel it's necessary to go to extremes. We agree that we should all be a little gentler on ourselves this time of year. However, it's important to remember that balance is sometimes about shaking things up, too. When it comes to fitness, stepping outside of your comfort zone a little can make you feel empowered, stronger and may possibly garner some unbelievable results. And who knows? You may even have some fun while doing it. Check out our favorite, toughest sweat sessions of 2012:
Bikram Yoga 26 poses. 90 minutes. 105 degrees. Sounds like fun, right? Okay, maybe not, but we guarantee you will walk out feeling like a cleansed, clearer and lighter version of yourself. Bikram encourages flexibility, prevents injury, and promotes detoxification. During those loonnng 90 minutes, you will work a minimum of 292 systems in your body while sweating out toxins that cause pain and illness. While the idea of extreme heat may seem intense, we consider the benefits worth every drop of sweat. You'll not only survive, you'll thrive. We promise.
Boot Camp Classes Don't expect a Drill Sergeant, but do expect to sweat like a soldier. Boot Camp classes focus on non-stop, intense interval training using drills (think sprints, push-ups and mountain climbers) and intense cardio. While a Boot Camp Class may seem intimidating, the camaraderie among classmates comes naturally, (you're all in it together!), and this can help motivate you. Best of all, Boot Camp Classes will increase your stamina, quickly burn fat, and help to get you into shape by pushing your body to its limits. The proof is in the puddle…of sweat.
Kickboxing Kickboxing is a total body workout: you'll achieve cardio and aerobic benefits, plus built-in resistance training. The results reap approximately 350-450 calories burned while toning every muscle in your body. We recommend finding a class that plays upbeat music--and plays it loud--to keep you going. Once you learn the basic moves (upper cuts, jabs, hooks, roundhouse kicks, etc), the fast pace, high energy and simple combos equate a fun-filled hour that will fly. And let's face it: punching a bag also lets out some stress and aggression...which is just gravy. (The fat-free kind of gravy, of course.)