Introducing...Skinnygirl Vodka with Natural Flavors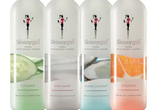 Skinnygirl Cocktails is not only changing the way women (and men!) enjoy their cocktails and wine, but now their vodka drinks too! If you haven't yet met our four new vodka "girls", let us do the honor…
Introducing Skinnygirl Vodka with Natural Flavors, with four inventive and delectable flavors - Bare Naked, Tangerine, Island Coconut and Cucumber. To keep things interesting (and to add to your closet full of Skinnygirl options), Skinnygirl Vodkas are not only high-quality and low-calorie, but are easily mixable so you can create your own array of fun, guilt-free drinks at home.
Skinnygirl Vodka is made with natural flavors, contains no added sugar, and was created to be a simple solution for you to create your favorite drinks, with fewer calories. Check out our descriptions on each new fun flavor, plus great recipe ideas for you to try at home!
As Bethenny says: "Become a "fixologist" and make your favorite cocktail guilt-free!" And as we say…. "Cheers!"
Bare Naked offers a crisp, smooth and somewhat sweet flavor with a lightly warming finish.
Recipe: Skinnygirl Miss Goody Two-Blues 2 oz Skinnygirl Naked Vodka 5 muddled blueberries 3 muddled blackberries Top with club soda
Tangerine provides a mouthwatering flavor with sweet ripe notes and hints of sliced peel.
Recipe: Skinnygirl Strawberry Blonde 2 oz Skinnygril Tangerine Vodka 2 large muddled strawberries 2 oz sugar free lemonade Squirt of fresh lemon Splash of club soda Pour over ice or serve as martini, garnish with lemon wedge and sliced strawberry
Island Coconut presents a bright, tropical-inspired flavor including bold coconut and citrus, reminiscent of mango, papaya or pineapple.
Recipe: Skinnygirl Suntan 2oz island coconut Skinnygirl vodka 2 oz club soda Splash oz pineapple juice Pour over ice
Cucumber offers a balanced blend of fresh, ripe, green cucumber.
Recipe: Skinnygirl Cucumber Refresher Martini 2oz Skinnygirl cucumber vodka 1/2 oz fresh lime juice Muddled mint leaves Shake with ice and pour into martini glass Top with splash of club soda