Introducing Skinnygirl Wine Collection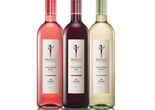 Up until a few weeks ago, there were just three lovely, delicious and fabulous reasons to love Skinnygirl Cocktails. They are called: Margarita, Sangria and White Cranberry Cosmo. And while our original "girls" will undoubtedly always hold a special place in our heart, our hearts are about to grow even larger.
In fact, they're bursting. With joy, excitement and a healthy (but classy) amount of salivation, because…Skinnygirl, The Wine Collection is hitting a shelf near you in just a few short weeks! Straightforward and delicious, our California White, California Red and California Rose are affordable, unpretentious and approachable. Perhaps best of all: they're only 100 calories per 5 oz. serving!
So as we slim down the calories inside the bottle, it'll soon be time to pour out our wine, glass by glass, and drink up! So what's The Wine Collection all about? How do they taste? How do I pair them? Where should I drink them? How will they fit into my new closet full of Skinnygirl options? Never fear. We are hear to demystify the wine-buying confusion we all face (this "confusion" is what inspired Bethenny to add drinkable, relatable wines to her Skinnygirl collection) and break it down for you, one Skinny, delicious sip at a time.
The Red Blend The Skinnygirl brand team worked closely with the best winemakers in the industry, insuring a quality and delicious-tasting wine product for your everyday busy life. One of the results? Our smooth and rounded Red Blend, AKA: the perfect choice to sip on the couch during those cozy Monday nights in as we all watch "Bethenny Ever After."
The White Blend The slightly off-dry style makes this an incredibly drinkable Skinnygirl Wine Collection option for anytime, anywhere; although we find it especially perfect to sip on a summer patio or to pair with a home-cooked meal. Like the Skinnygirl lifestyle, the White Blend is all about balance. This crisp and balanced choice just gave our white-wine drinking experience an upgrade.
The Rose What is it about a glass of a pink-colored libation that makes us feel so feminine? Well, we'd like to politely ask all pink martinis and etcetera to move over: there's a new girl on the block. Our Rosé is bright and refined (just like you and your girlfriends) which makes this pink drink the perfect thing to pair with your girl's nights in, girl's nights out…or when you're simply feeling girly. Skinny-girly, that is.