Incorporate Bangs with Your Holiday Party Hairdo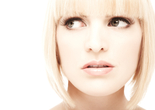 Holiday hair is the magical crown that tops your seasonal party costume. Like me, your standard hairstyle may consist of chopped bangs and a ponytail, but for those exciting holiday events, this simply won't do. After shopping for a solid month for the perfect, eye-catching holiday dress, I want my hairstyle to be as lovely as my outfit, not to mention my high heels. For that I wear my holiday bangs. I like my hair perfectly-styled and out of the way!
When it's time to party, I rely on my three favorite bang styles. The first is vintage, classic and goes well with an updo. My second bang style is for a softer, sweeter look that is appropriate for an up or a down look. I've saved the drama for last, a pumped-up bang style that gets me noticed every time. Want to give them a try? Here's how you can incorporate bangs with your holiday party hairdo.
Style #1 Classic It Girl
I love the intricate folds of a hair bun; aren't they lovely? The bangs are the finishing touch and for this style they need to be short. Here's how to get an Audrey Hepburn look with a modern touch.
1. Place your hair on large velvet-lined hot rollers. Roll the entire head of hair under using the largest rollers you have. Don't roll the bangs.
2. Spray the hair lightly with hairspray. Allow the rollers to sit in your hair until they are completely cool. Don't take them down early-they'll go limp. That's a no-no!
3. Heat up a flat iron. Straighten the bangs, curling them slightly by pulling them under. Don't tear your hair or burn your scalp!
4. Remove the hot rollers and smooth the hair into a high ponytail at the top of your head. Don't cinch it. Instead, fold the hair under, making a chignon bun. Cinch it with combs and a bobby pins.
5. Use a fine-toothed comb to tease the bangs slightly and make them puff up a little.
6. Spray your entire head of hair with freezing spray.
Style #2 Soft and Easy
This is so easy, anyone can do it!
1. Use a spiral curling iron or a wide-barreled curling iron to curl the entire head of hair.
2. Divide the bangs into two sections, either right down the middle or parted off to the side.
3. Curl the bangs back in spirals to blend into the hairstyle. Arrange it with your fingers then spray it lightly in place.
For fun, I sometimes like to arrange a few decorative bobby pins in my hair, leaving only the decorations poking out. It's a pretty look!
Style #3 Give Me Drama
Wear your hair down with curls or severely straight and half up. It doesn't matter because the drama is located right where everyone can see them - your bangs!
1. Apply a dime-sized amount of styling gel to the damp hair working it in with your fingers.
2. Blow dry damp bangs, curling them under slightly with a vent brush.
3. Place one large velvet hot roller at the front to curl your bangs.
4. Protect your forehead from the heat by placing a fold of tissue there.
5. Spray the bangs lightly and allow the roller to cool.
6. Remove the roller. Do not brush the curl. Style with your fingers and spray it into place.
Happy holidays, style mavens! Proudly wear those bangs!