How to Wear Tights and Leggings this Winter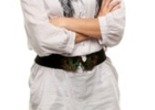 Tights and leggings are the perfect winter cover up when you want to wear a dress without baring those legs. Whether you're heading to the office, doing a round of holiday shopping, or getting ready for a special date, show off your chic and stylish side with a dress paired with tights or leggings this season. One of the keys to making this look work is to coordinate the dress with the right style of tights or leggings, and of course, pick out the right shoe. If you don't have super-long legs or your legs aren't your best asset, steer clear of prints and make sure you wear a high heel!
Here are some ideas for wearing tights and leggings the right way this season:
For the Holiday Soiree:
A glittery tunic sweater with a pair of leggings and heeled boots is the perfect outfit for a holiday gathering. Just make sure the sweater is long enough to cover your behind and you'll be good to go! A long tunic sweater that ends mid-thigh or just above the knee wears a lot like a dress but is still as comfy as a sweater. Stick with thick black leggings for a classy and stylish look at your holiday event.
For a Day at the Office:
Keep things simple with a black or dark grey sweater dress but pair this with printed tights instead of plain for a stylish twist. Maintain that pulled-together look with a pair of ankle booties with a kitten heel or calf-length high-heeled boots. The sweater dress paired with tights will create a chic, polished and sophisticated look for any long winter day at work.
For a Round of Holiday Shopping:
Go for a casual look by pairing leggings with a long tunic-style dress or chunky sweater. You can get away with ballet flats or low-heeled boots to make that mall trek that much easier, and accessorize with an oversized shopper and colorful scarf. Accentuate your waist with a thick belt. This is a simple, comfortable, and fashionable look and you can play with different styles of sweaters - boatneck, scoop neck, or even a turtle neck - as long as it goes down to your knees!
For Date Night:
Go ahead and wear that little black dress, but pair it with dark tights and heeled booties this season. Black tights can make your legs look longer and trading your usual heels for some high-heeled booties will keep your look fun and flirty. Just make sure to accessorize with some bold, gleaming jewelry so that your entire outfit isn't all black. Tights will give you the excuse to show off those legs and wear that perfect-fitting black dress this winter.
Content by Sabah Karimi.