Have you ever considered turning your passion into a profession? We polled an inspiring group of ladies to show us how it's done...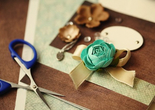 Have you ever considered turning your passion into a profession? We polled an inspiring group of ladies to show us how it's done!
REALITY CHECK
It's easy to glamorize the notion of ditching your day job to pursue something you love. But Patricia Helding of Fat Witch Bakery (www.fatwitch.com), an ex-Wall Streeter who transformed her mother's brownie recipe into a sweets empire, does not sugarcoat the day-to-day realities. "Your passion might be baking pies, but if you own the bakery, much of the time will not be spent near the oven," she points out. Her advice: "Make sure you want to run a business."
LABOR OF LOVE
Before you commit, make sure your feelings for your passion project run deep. Elena Howell of TOMTOM Jewelry (www.tomtomjewelry.com) explains, "It can be really exhausting running a business, but one thing I never get tired of is designing jewelry." Adds the former architect, "I think a true passion will be there to carry you through even your toughest moments."
HUSTLE
For those looking for an easy ride, get out now! "I wish I could say that it was an overnight financial success, but without a financial backer and with zero connections in the fashion industry, it was really a slow build," recounts Howell, who will add Bergdorf Goodman to her list of retailers in the spring. Elizabeth Seaton, owner of custom invitations company Posh Paperie (www.posh-paperie.com), concurs. "I had to put a lot of money into my business in order to see money come out." Says the crafts lover, "It takes a long time and a lot of work, but it's totally worth it."
KNOW YOUR AUDIENCE
Eunice Moyle of Hello!Lucky (www.hellolucky.com), who founded a specialty letterpress printing and design studio with her sister Sabrina Moyle, touts the importance of carving out a niche in a crowded marketplace. "There's a lot of noise out there, so finding an original voice is key," offers Moyle, whose designs have been featured everywhere from Martha Stewart Weddings to the Today Show. "Stay true to your vision, and don't worry about pleasing everyone," she adds. But do worry about pleasing your core audience. Case in point: when clientele with limited budgets could not afford letterpress, the sisters expanded to include a cheaper flat-printing option, too. Yet another reason these ladies have managed to stay in business for a decade!
DON'T GIVE UP
When Seaton's business partner left after the first year, she debated throwing in the towel. "It just seemed too daunting of a task to run everything alone." But she persisted, finding a new partner along the way. "We are a perfect match!" she gushes. Lesson learned: "Don't give up!" she says.
REAP THE REWARDS
The reward of turning your love into your life? "I never get tired of it, and it makes me so happy and fulfilled!" Seaton enthuses. And Howell still gets a thrill remembering her first major moment. "I opened the September [2011] issue of Vogue and saw my necklace featured on the actress Diane Kruger. I kept pinching myself to make sure it wasn't a dream!" she says. "If I hadn't turned my passion into a career, the only place I would have seen that necklace would have been in the mirror!" Feeling inspired? Network and brainstorm with like-minded ladies over drinks with Skinnygirl® Cocktails! Who says you can't mix business with pleasure?
A Lady Always Drinks Responsibly™ ©2013 Skinnygirl Cocktails, Deerfield, IL; Avg. Analysis: All Products: Protein 0g, Fat 0g; Vodka with Natural Flavors (per 1.5 oz.): Calories 75.8, Carbs 0g; Cocktails (per 1.5 oz.): Calories 35.5, Carbs 1.8g; Sangria (per 5 oz.): Calories 132, Carbs 22.5g; Wine (per 5 oz.): Calories 100, Carbs 5g