How to Throw an Award-Worthy Bash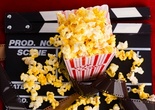 The glitz! The glam! The gowns! It can only mean one thing: awards season is upon us. Here's how to throw a party that will make yours a star-gazing soiree that your guests will ever forget.
ON THE LIST
What makes a party an A-list affair? The guest list! Make sure your VIPs show up by sending out invitations at least 2-3 weeks in advance. Set the swanky tone with an elegant evite, or go all out by hand-delivering embossed invitations with gold seals and red ribbons.
BLING IT ON
Since you're throwing a party with a red-carpet theme, encourage your girls to step out like starlets with a glam Hollywood dress code. The more bling the better, but no need to break the bank. To merely look like a million bucks, shop at vintage and thrift shops for sparkly gowns, or dust off an old bridesmaid dress and accessorize with faux ice like these chandelier drops from Claire's. And remember: glam is in the details. Think perfectly polished nails and sky-high stilettos. But while our favorite screen sirens suffer in heels all night, your plus-ones can switch into a pair of ballet flats after arrival.
MAKE AN ENTRANCE
Roll out the red carpet – we found this one for under 10 bucks – and print out our photo backdrop (available here) so your guests can arrive in star style. Play music from the nominated films or artists as your celebs-in-the-making take turns soaking up the spotlight and playing paparazzi. For fab party favors, use an instant camera. Work it, ladies!
VIEWING PLEASURE
When it comes to throwing a party that's celebrates the biggest Hollywood hits, you'll need a screen that's worthy of the films. So in this case, bigger really is better. Consider renting a projector for the day, and moving the party outside. Ensure everyone has a comfy seat by providing throw pillows and cozy blankets, and create a theatre feel by passing out cinema snacks like gourmet popcorn in cones and fun-sized candy. Another idea: let the nominees inspire your menu. Then, pass out our ballots (available here), and battle it out to see who can predict the most wins. Keep an eye on your Skinnygirl® Cocktails Celebrity Fantasy Draft all-star roster, too. Fingers crossed for lots of red dresses! Style and substance – just how we like it!
BOTTLE SERVICE
You and your guests got all decked out; now it's your bottles' turn. Dress up Skinnygirl® Cocktails in appropriate party attire with our luxe labels (available here), and give away as a prize to the lucky lady who won the awards show pool. And let your ladies sip like celebs by mixing up The Starlet: 1 ½ parts Skinnygirl™ Cucumber Vodka, 2 parts club soda and a splash of no-sugar-added cranberry juice. Pour over ice and garnish with a lime wedge or cucumber slice. For more chic drink recipes, including The Bombshell and The Showstopper visit http://skinnygirlcocktails.com/recipes.
SWAG BAG
Win or lose, no lady should go home empty-handed. (Let's leave that to the nominees.) Swag your girls with goody bags filled with funny flicks and CDs from the $1 bin, Skinnyminis® and these Hollywood-themed frames for your red-carpet pics. The next day, the gifts keep on coming. Bestow awards for everything from Best-Dressed to Hottest Heels with our Social Badges (available here). And let the countdown to the next award show begin!
Lady Always Drinks Responsibly™
©2013 Skinnygirl Cocktails, 510 Lake Cook Road, Deerfield, IL; Avg. Analysis: All Products: Protein 0g, Fat 0g; Vodka with Natural Flavors (per 1.5 oz.): Calories 75.8, Carbs 0g; Cocktails (per 1.5 oz.): Calories 35.5, Carbs 1.8g; Sangria (per 5 oz.): Calories 132, Carbs 22.5g; Wine (per 5 oz.): Calories 100, Carbs 5g