How to Perfect Your Red-Carpet Pose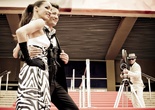 Camera-shy? Not anymore! Celebrity photographers, Jeff Kravitz and Jason Merritt, offer up tips so every lady can rock the red carpet this awards season.
PRACTICE MAKES PERFECT
"Pictures last forever, so make sure you do it right," advises Kravitz, who has photographed stars for over twenty-five years. Take practice shots to figure out your best angles. Even the most gorgeous of gowns can lose their luster on camera – or worse – become see-through. Avoid any wardrobe malfunctions by printing out our Red Carpet Photo Backdrop for a dry run. "Let's face it, most people on the red carpet have spent years posing it up in their home mirrors or for friends," notes Kravitz, President of photo agency, Filmmagic.com. So do your homework, ladies!
TIME TO SHINE
The secret to making a grand entrance? "Always look up with a smile and with your teeth facing the photographers as you step onto the carpet," says Merritt, who has shot countless major award shows and premieres. And to really soak up the spotlight, Kravitz, recommends, "Show up early. That way you'll have plenty of time to pose it up." Otherwise you risk getting shooed away when a bigger name shows up.
THE EYES HAVE IT
Greeting a line of awaiting – often screaming – photographers can be overwhelming. Prevent the deer-in-headlight look with Kravitz's strategy: "Calmly go from left to right like each photographer is a computer key, and try to hit each one in the lens with your eyes as you go by. Don't let their incessant screaming distract you." Merritt adds, "Make eye contact with every single camera for a three-second hold." Now would be a good time to breathe, ladies!
POSE LIKE A PRO
One way to avoid looking like a novice? "Never cross your legs. Almost every lady shows her nerves by crossing her feet," Merritt says of the awkward move. Kravitz proposes trying this more figure-flattering stance: "Put one foot in front of the other, put your weight on your back foot, and turn your body away from the camera on a 45-degree angle."Another don't? "Avoid the straight-on mugshot pose," says Kravitz, who details his Hollywood experiences on his blog, Insidecelebpics.com. Instead: "Chest out, stomach in, back straight, head held high and keep it fun!" And eliminate the disastrous double chin once and for all! "Point that chin high, straighten your back and shoulders and pull your head forward on your neck," Kravitz says. Got that, ladies?
FLAUNT YOUR FASHION
"Photographers want the whole dress, front and back," explains Kravitz. So how can you show off your fab frock in star style? Merritt suggests a hand-on-the-hip pose. "Point your leading toe/shoe a little in front of the other foot. This raises a hip and shows a better composition." As an added bonus? "It makes the ladies look slim!" Talk about a win-win! To reveal your other side, try an over-the-shoulder sexy smolder.
READY FOR YOUR CLOSEUP
"Every little element is captured nowadays. Being camera-ready means everything you're showing," reminds Merritt. So ensure your shoes and bling are shined, your lipstick is on straight and your gown is zipped! And don't forget the hottest red carpet accessory of all: Skinnygirl® Cocktails!
A Lady Always Drinks Responsibly™
©2013 Skinnygirl Cocktails, 510 Lake Cook Road, Deerfield, IL; Avg. Analysis: All Products: Protein 0g, Fat 0g; Vodka with Natural Flavors (per 1.5 oz.): Calories 75.8, Carbs 0g; Cocktails (per 1.5 oz.): Calories 35.5, Carbs 1.8g; Sangria (per 5 oz.): Calories 132, Carbs 22.5g; Wine (per 5 oz.): Calories 100, Carbs 5g