How to Host a Healthy Holiday Party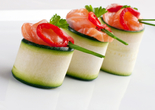 All of those holiday desserts, high-calorie beverages and rich meals we indulge in over the holiday season can add a few pounds to the scale. Still, there are some ways to celebrate without the calorie overload. If you're playing hostess this season, plan a "lite" version of a holiday party so that you and your guests can enjoy a guilt-free bash. Focusing less on food and more on the events and activities at the holiday party can ward off those extra pounds while entertaining the crowd in grand style.
Use these tips to host a healthy holiday party:
1. Serve low-cal cocktails. If you and your guests are trying to keep calories to a minimum, stick with simpler drinks that don't contain heavy cream, sugar-laden juices and other high-cal additions. From fruit-infused margaritas to sparkling white wine, serve up some of low-calorie drinks and cocktails so that everyone can enjoy a toast without overdoing things in the calorie department. Skinnygirl White Cranberry Cosmo is a perfect choice!
2. Go green! Support your local farmers market by picking up fresh fruit, vegetables and handmade baked goods for your holiday spread Ð not only is it eco-friendly, its healthy too!.
3. Put together a healthy holiday dessert buffet. What's a holiday bash without dessert? Spend some time tracking down "lite" and low-calorie versions of your favorite holiday desserts and put together sampler platters for guests to taste and enjoy. You can replace sugar and fats in many recipes with natural sweeteners, fruit purees and egg whites.
4. Serve tapas instead of a full-course meal. Encourage everyone to eat light by serving only miniature portions of some holiday favorites, tapas style. Set up a buffet table with large platters filled with hors d'oeuvres and tapas-style snacks so that guests can sample and enjoy a variety of different foods sans the typical holiday food coma.
5. Head outdoors! Even though it might be snowing, head outdoors for sledding, snowman-building and other fun activities outside. Spending time outdoors can be a refreshing change of pace for everyone and a fun way to just relax, have fun, and even burn a few extra calories sans workout!