How to Have a Stress-Free Sweetest Day
...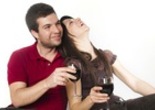 With holiday season just around the corner, you may have overlooked one smaller occasion that can score you big points with your significant other – Sweetest Day! A much less-hyped version of Valentine's Day, Skinnygirl® Cocktails like to celebrate this day by keeping it short, sweet, and simple. No elaborate costume, turkey dinner, decorated tree, or ANY stressful holiday shopping required – it's about celebrating you, your sweetie, and your time spent together.
A lady knows nothing is sweeter than a little surprise, so make his day extra special with a few of these spontaneous tips:
• Start your day off right with breakfast in bed for two. No need to slave away over it, just wake up an extra 20 minutes early to whip up some quick egg sandwiches and bacon (and if you're feeling it, a Bloody Mary made with Skinnygirl™ Cucumber Vodka!). Deliver it on a cute tray (bonus points if you bring the sports section with it!)
• Know his morning routine? Leave his favorite candies near all his usual a.m. spots (alarm clock, toothbrush holder, shower, vitamin cabinet)
• Take a cute photo of yourself doing something he loves (holding a football, playing with the dog, modeling a new outfit) with an "I Love you" sign and set it as the background of his computer
• Sneak his cell phone and set an alarm reminding him of a romantic dinner for two you've planned
• Instead of spending your day in the kitchen, place an order for his favorite delivery spot to be sent over at dinner time (bonus points if you have the delivery person do something special, like write a sweet message in pizza toppings or a fortune cookie)
Once you've got your surprises set, it's time to focus on our two favorite things – drinks and dessert. To satisfy your sweet tooth, indulge in this easy, low-cal frozen treat you two will adore.
Prep time 15 min. Total time 3 hours and 30 min. Makes 12 servings, 1 slice each
1 pint (2 Cups) raspberry sorbet or sherbet 1 Cup cold fat free milk 1 Pkg. (4-serving size) Vanilla Flavor Fat Free Sugar Free Instant Reduced Calorie Pudding and Pie Filling 1 tub (8 oz.) Cool Whip "Free" Whipped topping, thawed 1 Cup raspberries
Line 9X5 inch loaf pan with foil. Spoon sorbet into pan; freeze 10 min. Pour milk into large bowl. Add dry pudding mix. Beat with wire whisk 2 min. or till blended. Gently stir in whipped topping. Spread pudding mixture over sorbet in pan.
Freeze 3 hours or overnight. To unmold, invert pan onto plate; remove foil. Top with raspberries just before serving. Let stand 10 to 15 min. to soften before cutting into slices.
For drinks, keep it really simple (and seductive!) with everyone's favorite aphrodisiac – red wine. Fall in love all over again with a bottle of our Skinnygirl™ California Red Wine.
So, ladies, whether you're celebrating your singledom this sweetest day or sharing it with a significant other, remember it should be sweet, simple, and spent with Skinnygirl® Cocktails.
A Lady Always Drinks Responsibly™ ®2012 Skinnygirl Cocktails, Deerfield, IL (Per 1.5 oz – Average Analysis: Calories 35.5, Carbohydrates 1.8g, Protein 0g, Fat 0g) and Skinnygirl® Sangria, (Per 5 fl oz – Average Analysis: Calories 132, Carbohydrates 22.5g, Protein 0g, Fat 0g) A Lady Always Drinks Responsibly™ .