How to Find the Ideal Food and Beverage Pairing for Holiday Parties - Vegetarian Finger...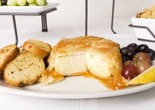 Stock up on fresh vegetables, fruits, cheeses, pantry staples and your favorite beverages and you'll be ready for any holiday surprises. Whether you have last-minute company or have to whip up a tasty appetizer to bring to a party, you'll be ready with these vegetarian finger foods.
Broccoli Pizza and French Chablis
A simple whole wheat pizza crust (homemade or purchased) gets this party started. Top with drained and steamed broccoli, low-fat mozzarella cheese, ground pepper, Parmesan and if you enjoy the flavor, add some pesto. Slice the cooked pizza into small wedges and serve with a French Chablis.
Optional toppings: Steamed arugula or sliced black olives
Sangria and Honeyed Brie
Skinnygirl Sangria bursts with the goodness of apple flavors. Bake a simple honey-drizzled French brie topped with toasted and unsalted walnuts. Serve the brie with sliced Granny Smith apples for tartness, wedges of Bosc pear, crusty French bread and Skinnygirl Sangria. Be sure to serve the brie while it's still warm.
Hostess Tip: If you're having an open house, buy two wheels of brie and heat one at a time, so all of your guests can enjoy the gooey goodness of the warmed cheese.
Tomato Skewers and Chianti Classico
Put those wooden skewers leftover from summer barbecues to good use. This no-cook finger food appetizer is as tasty as it is easy to make. Skewer a whole cherry tomato, a fresh basil leaf and a small chunk of fresh Mozzarella. Drizzle with Extra Virgin Olive Oil before serving. Serve with Chianto Classico. Other beverages parings for this holiday finger food include Pinot Grigio or American Pinot Blanc.
Change it up: Cut up green, orange, red or yellow peppers into square pieces to add a burst of color and some Vitamin A and Vitamin C to the holiday dish.
Avocado and Beet Salad with Chardonnay
Enjoy the best of fall with avocado, beet, apple, onions tossed with your favorite mixed greens. The recipe uses basic pantry ingredients like apple cider vinegar, celery and mustard seeds and vegetable oil. The beets need to be cooked and chilled before making the salad, but the end result is worth the one hour of cooking time. Serve the completed salad with your favorite Chardonnay.
Hostess Tip: Bake fresh whole wheat rolls topped with fresh garlic to accompany the salad.
Sources
Content by Pam Gaulin.