Time to liven up your desk-drone duds? Get ahead in style with these workplace wardrobe essentials...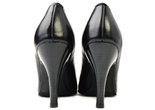 Time to liven up your desk-drone duds? Get ahead in style with these workplace wardrobe essentials and a few fun office fashion trends.
DECIPHER THE DRESS CODE
Once upon a time, all a lady needed to rise through the ranks: a power suit. But with business-casual dress codes on the rise and a confusing range of looks among coworkers, it can be hard to figure out exactly what qualifies as work-appropriate or "office chic" these days. Our advice: Take sartorial cues from successful colleagues, and when in doubt, err on the formal side. After all, it's hard to climb a ladder – corporate or otherwise – in flip-flops!
STOCK YOUR CLOSET WITH CLASSICS
The foundation to any work-worthy wardrobe: versatile basics, including crisp button-downs, black pants, dark suit, blazer, cardigan, sheath and wrap dresses, black pumps, flats, pencil or A-line skirt, trench coat and deep-colored denim. Then, dress up or down your looks based on your job. For example, pairing jeans with heels and this fitted jacket from Zara adds polish to a Casual Friday look, whereas flats and a sweater can relax the feel of an elegant wrap dress.
TAILOR-MADE
The secret to looking like a million bucks? Clothes that fit. So splurge on a tailor instead of designer garb. Trust us, no matter how much you spend, too tight – or revealing! – will always be tacky.
INVEST IN KEY PIECES
If you're unsure about how to dress for work, think classics. Invest in timeless, sophisticated items and fabrics, not trends. Your best bets: luxe cashmere, a wool coat, high-end boots and a rich, leather handbag like this tote from Cole Haan. Ensure each piece has several mix-and-match possibilities to get the most bang for your buck.
EXPRESS YOURSELF
Go beyond the boring boardroom attire by incorporating your own fashion sense. Pops of color and patterns, like these herringbone Nordstrom tights, work well with basics. Tone down louder looks by choosing darker colors and simplifying the rest of your outfit. Translation: ease up on the neon, ladies! Nobody needs another headache in the office, right?
REINVENT YOUR WARDROBE
No need to buy a whole new wardrobe to stay on the cutting-edge of office fashion trends; just reinvent the clothes you have. Accessorize with on-trend jewelry like statement necklaces, including this gem, along with studded belts, jewel-toned flats and scarves, and nobody will even notice if you repeat outfits. And give yourself a break, and let your wardrobe work overtime instead with a few day-to-night transitional tricks: carry a clutch inside your bigger daytime bag, switch into a pair of heels and rock red lips. Now you're ready to meet the ladies for happy hour with Skinnygirl® Cocktails!
A Lady Always Drinks Responsibly™
©2013 Skinnygirl Cocktails, 510 Lake Cook Road, Deerfield, IL; Avg. Analysis: All Products: Protein 0g, Fat 0g; Vodka with Natural Flavors (per 1.5 oz.): Calories 75.8, Carbs 0g; Cocktails (per 1.5 oz.): Calories 35.5, Carbs 1.8g; Sangria (per 5 oz.): Calories 132, Carbs 22.5g; Wine (per 5 oz.): Calories 100, Carbs 5g