A Thanksgiving feast should be a food free-for-all...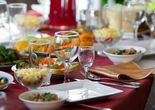 A Thanksgiving feast should be a food free-for-all. But often diners with diet don'ts have to make do with a mere side dish. Here's how to make everyone feel welcome at your table with modified (yet tasty!) takes on the traditional.
Plan Ahead
Grill your guests beforehand to find out about any dietary restrictions. You don't want to serve a big ole bird only to find out you're playing host to a veggie-only crowd.
Veggie-Friendly
If you find yourself among hungry herbivores, consider turning meat-free versions of the classic sides into the main event. With a cornucopia of options like green bean casserole, butternut squash, candied yams and pumpkin soup, carnivores may not even miss the meat. But if they do, there's always...tofurkey. Or for a heartier meal, vegetarian shepherd's pie should do the trick.
Lactose-Intolerant
For the lactose-intolerant, swap out butter and cream for dairy-free options. Tip: subbing olive oil in mashed potatoes creates a still-delish dish that will work for vegans, too. Plus, the calorie-cutting move leaves more room for dessert.
Gluten-Free
Breaking bread with gluten-free grubbers is easier than you think. No need to sacrifice the stuffing. Simply opt for gluten-free versions of white bread or cornbread for an all- inclusive fix. And for the final course, here's a sweet solution: skip the glutinous pie and indulge in elegant pumpkin mousse instead.
And be sure to include our Skinnygirl™ Wine Collection on the menu of course. Our red, white and rosé blends are veggie-friendly, and both lactose and gluten free! So, no matter what, you're covered!
A Lady Always Drinks Responsibly™
Skinnygirl™ Wine Collection ©2012 Skinnygirl Cocktails, Deerfield, IL (Per 5 oz – Average Analysis: Calories 100, Carbohydrates 5g, Protein 0g, Fat 0g)