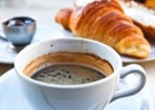 Did you hit the town hard on New Year's Eve, enjoy a romantic dinner and dancing with the love of your life, or host an intimate gathering at your own home? However you spent New Year's Eve, you've likely still got one more day off from work on New Year's Day. How should you spend it? An easy, breezy New Year's Day Brunch is a great way to spend the day with your closest friends and family without ringing in the New Year with stress.
1. Set up a juice bar. Don't feel the need to provide a fully stocked bar to guests for your New Year's Day brunch. Set up a juice bar, focusing on apple juice, orange juice, and even pineapple juice. Provide champagne and vodka so that party guests can make mimosas or screwdrivers if they want. Focus on fewer beverages with plenty of options instead of providing every drink under the sun. Depending on how wild the night was, many guests may stick to water, anyway!
2. Serve doughnuts and pastries. Doughnuts and breakfast pastries are a quick and easy addition to a New Year's Day brunch. They can be store-bought more than a day in advance, so you won't need to be rushing out to the store first thing in the morning. The carb-heavy treat might be good for guests looking to recover from a long night.
3. Put out fruit and veggie trays. You don't need to offer a four-course meal when you're providing brunch. Fruit and veggie trays placed on the kitchen, dining room, or even coffee table are perfect for nibbling. Kids of all ages will love dipping their fruit in a combination of cream cheese and marshmallow fluff. Ranch dressing works well as a dip for veggies.
4. Make it ahead. Instead of a labor intensive morning of preparation and cooking, opt for preparing egg bakes and French toast the night before and simply baking them in the morning. Here is a great recipe for Baked French Toast and for an easy Egg Strata.
5. Don't forget the coffee. Whatever you do, don't forget the carafe of coffee for your guests. Whether your guests were out partying late all night or up early in the morning with a young child, they'll appreciate the much-needed pick-me-up.
These five simple steps can help you put together a simple New Year's Day brunch that family and friends will love.
Content by Kelly Herdrich.