Holiday Cookies Without the Fat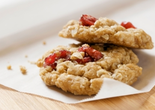 Ah, the holidays! Family, festivals, and all the food you can eat - or can't. Surely a small cookie here and there will be OK, though, won't it? Let's say the holiday season lasts 30 days. You're good two-thirds of those days, leaving only 10 when you splurge a little. If, during each splurge, you have three cookies, at an average of 150 calories each, that's a total of 4500 extra calories. No worries, though - it will only take you 13 hours of jogging to burn them all off.
There is a better way. By making just a few small changes in your holiday cookie recipes, you can trim the fat and calories by as much as half. For instance, applesauce or mashed bananas can be used instead of most of the oil or shortening called for in a recipe. Using a granulated sugar substitute that measures like sugar can also save you hundreds of calories per batch. The final texture of the cookie may be a little different than the original recipe, but it's well worth it for all the fat and calories you'll be saving. Try these delicious reduced fat and calorie cookie recipes and spend your holidays with your family and friends instead of at the gym.
Low-Fat Oatmeal Cranberry Cookies
Ingredients: 1 cup whole wheat flour 1-1/2 cups quick cooking oatmeal 1/2 cup firmly packed light brown sugar 1 tsp baking soda 1/2 cup no-sugar-added applesauce 1 tsp vanilla extract 1/2 cup dried cranberries
Directions: 1. Preheat oven to 350 degrees F. 2. Combine all dry ingredients and mix well. 3. Stir in the applesauce, vanilla and cranberries and mix until the batter begins to stick together. If too dry, add additional applesauce, one tablespoon at a time. 4. Drop by teaspoon onto a cookie sheet (sprayed with cooking spray) 2 inches apart. 5. Bake for eight to nine minutes, or until golden brown. Cookies will still be soft when removed from the oven.
Low-Calorie Holiday Sugar Cookies Ingredients: 1 cup granulated sugar substitute (that measures like real sugar) 2 cups flour 1 tsp salt 1 tsp baking soda 1/2 cup water 1 tsp vanilla extract 2 egg whites 1/4 cup skim milk
Directions: 1. Preheat oven to 375 degrees F. 2. Mix together dry ingredients. 3. Add remaining ingredients and mix well. 4. Chill dough for a minimum of one hour. 5. On a lightly floured surface, roll out dough to about 1/4 inch thick. Using cookie cutters, cut into holiday shapes. 6. Place cookies on a cookie sheet (that has been sprayed with cooking spray) two inches apart. 7. Bake for eight to ten minutes.
Hint: if you choose to decorate the cookies but still want them to remain lower in calories and fat, use just a dab of frosting to add small amounts of sprinkles or other holiday cookie décor.