Guiltless Comfort Food - Healthier Baked Ziti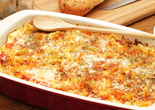 For as much as we Skinnygirls like to bop around town toasting our Margaritas, Sangrias and Cosmos, we appreciate a night in with our DVR and snuggle buddy just as much as the next girl.
And while the aforementioned stay-at-home necessities make for a perfect evening on the couch, one thing must always be present when rejoicing in the comfort of your own pad: comfort food. And Skinnygirl, along with Bethenny herself, have got your covered… and with more than just your throw blanket.
Check out our healthy recipe and delicious spin on Baked Ziti (usually a calorie bomb), straight from Bethenny's: The Skinnygirl Dish.
Happy snuggling, cuddling and (guiltless) indulging!
Baked Ziti
16 ounces whole-wheat ziti
15 ounces part-skim ricotta cheese
½ cup freshly grated Parmesan cheese
1 tsp garlic salt
½ tsp freshly ground black pepper
1 egg white, lightly beaten
2 cups tomato sauce
8 ounces shredded fresh part-skim mozzarella
2 tablespoons chopped fresh parsley
2 tablespoons chopped fresh basil
1.) Preheat the oven to 350°F. Cook the ziti according to the package directions until still slightly firm, or about 8 minutes. Don't overcook the pasta because it will cook more in the oven. If you have a soup-pot that go directly in the oven, use that. Otherwise, spray a casserole pan with cooking spray. 2.) Drain the ziti and return it to the pot. Let it cool. In a separate bowl, mix the ricotta, Parmesan, garlic, salt, black pepper and egg white. When the ziti is about room temperature, stir the ricotta mixture into the ziti until everything is combined. Stir in the tomato sauce and mozzarella. 3.) If you are using a casserole, pour the mixture into the casserole. Or, leave it in the oven-proof pot. Bake uncovered for 20 minutes. Serve warm.