Game Day Entertaining - Which Super Bowl Skinnygirl Are You?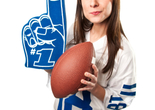 We all know that Super Bowl Sunday is not just about the game—it's about the parties we attend to celebrate. We at Skinnygirl are here to help curtail life's unnecessary calories, not just from cocktails at such events, but also from the edibles that go along with them. So while you're passing around your bottles of Skinnygirl Cocktails (more on those in a minute), pass on the store-bought snacks and take-out food—they're loaded with fat, sodium and calories. Instead, take a cue from our healthy at-home recipes to perfectly pair with whatever kind of football-loving, party-throwing Skinnygirl you are.
For the Sangria Girl
The Sangria Girl has got samba in her step, a colorful wardrobe to match her personality and "festive" is her middle name. Her entertaining style reflects this spirit, so we suggest throwing in some strawberries, blueberries and pineapple (and perhaps a dash of cinnamon) for an extra helping of antioxidants and vitamins—not to mention some fun color—to add to your one-of-a-kind Sangria Cocktail. This colorful Corn & Avocado Salsa recipe is fresh, light and easy to prepare. The two combined are a perfect "kick-off" to your Super Bowl spread.
Corn & Avocado Salsa
Ingredients
1 medium avocado, diced 3/4 cup frozen corn, thawed 1/2 cup quartered grape tomatoes 1 tablespoon chopped fresh cilantro 2 teaspoons lime juice 1/4 teaspoon kosher salt
Directions
Toss avocado, corn, tomatoes, cilantro, lime juice and salt in a medium bowl.
For the White Cranberry Cosmo Girl
If "festive" is Sangria's middle name, "sophistication" is Miss Cosmo's. The White Cranberry Girl adds a bit of sparkle to all she does, and Super Bowl Sunday is no exception. So we suggest busting out the martini glasses this weekend, rim them with sugar, pour in the WCC, top with a bit of sparkling wine and garnish each glass with a plump and juicy strawberry. The visual alone will wow just as much as the taste. Lastly, the word "appetizer" doesn't suit the White Cranberry Cosmo Girl's vocabulary. It's hors d'oeuvres, thank you very much. So take a cue from Bethenny (this is one of her favorite's) and pass the Crab and Endive.
Crab and Endive
Ingredients
4 tablespoons white wine vinegar 2 tablespoons Dijon mustard 1 teaspoon dried oregano 1/2 teaspoon salt 1/4 teaspoon freshly ground black pepper 2/3 cup extra-virgin olive oil 24 ounces crabmeat, drained, picked over 6 heads Belgian endive, trimmed, separated into spears Chopped fresh chives, for garnish
Directions
Whisk the vinegar, mustard, oregano, salt and pepper in a large bowl to blend. Gradually whisk in the oil. Add the crabmeat and toss gently to coat.
Arrange the endive spears on a platter. Spoon the crabmeat atop the endive spears. Sprinkle with chives and serve.
For the Margarita Girl
Like Cindi Lauper once said, the Margarita Girl just wants to have fun. It's important for her to be around good people…with a good strong drink in her hand. She loves entertaining, but likes to keep things simple, so she can spend less time slaving in the kitchen and more time socializing with her girlfriends. For the Super Bowl, find the largest punch bowl you have, pour in a bottle or two of Skinnygirl Margarita and then toss in some very thinly sliced lemon and lime. (Make sure you slice the lemon and lime as thin as possible, so the fruit floats: this will give the your Margarita "Punch" a gourmet look-and-feel.) These healthy Chicken and Mushroom Quesadillas will match your Mexi-casual vibe, and most importantly, they won't ruin your waistline. And we just love the sound (and taste) of that.
Chicken and Mushroom Quesadillas
Ingredients
1 tablespoon canola oil 1 large onion, chopped (about 2 cups) 8 ounces white button mushrooms (about 3 cups) 3 cloves garlic minced 2 cups cooked chopped skinless, boneless chicken breast (1 breast half) 1 teaspoon ground cumin 1 teaspoon chili powder 1 teaspoon dried oregano 2 cups baby spinach leaves, sliced into ribbons 1/2 teaspoon salt 1/4 teaspoon fresh ground black pepper 4 (10-inch) whole-grain flour tortillas 1 cup shredded low-fat Mexican cheese mix or Cheddar 1/2 cup salsa 1/4 cup reduced-fat sour cream
Directions
Heat the oil in a large skillet over a medium heat. Add the onions and mushrooms and cook until the mushroom water is evaporated and they begin to brown, 5 to 7 minutes. Add the garlic and cook for 1 minute more. Add chicken, cumin, chili powder, and oregano and stir until all spices are incorporated. Add spinach, salt and pepper and cook until spinach is wilted, about 2 minutes. Lay 1 tortilla on a flat work surface and sprinkle with 1/4 cup shredded cheese. Spoon 1/2 chicken and vegetable mixture on top of cheese, then top with an additional 1/4 cup cheese. Top with another flour tortilla. Heat a large nonstick skillet with cooking spray over medium heat. Carefully place 1 quesadilla in pan and cook 3 minutes. Using a large spatula, gently flip quesadilla and cook an additional 3 minutes until lightly browned and cheese is melted. Repeat with second quesadilla. Slice each quesadilla into quarters. Place 2 quarters on a plate with 1 tablespoon sour cream and 2 tablespoons salsa.