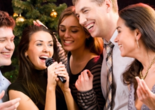 The annual Christmas gala or holiday office party will be on many a friends' agenda this holiday season, so make sure your holiday gathering is something fun and unique. Planning a themed holiday party is a great way to encourage everyone to participate and a fresh theme will make your event one to remember. Skip the cookie swap and holiday gift wrapping party in favor of something more creative this season.
Here are just five fun party theme ideas for your holiday events:
1. Holiday Karaoke This is one party that's sure to break the ice between people who don't know each other very well, and will also give everyone a chance to just kick back and enjoy a night during the hectic holiday season. Set up a karaoke station with Christmas carols and holiday songs and encourage everyone to dress in a holiday-themed outfit or costume.
2. Romantic Holiday Movie Marathon Get the girls together for a night of romantic holiday movies. Ask everyone to bring a sweet treat to share and vote on three movies the gang wants to watch ahead of time. From While You Were Sleeping and The Holiday to White Christmas, be prepared for lots of crying and laughs with your favorite girlfriends. Your party favors could include a box of Kleenex, dark chocolate candy bars, and a holiday candle.
3. Holiday Appetizer Swap Even though it's the season for baking, you and your friends may be tired of all that sugar and calorie-laden treats of the season. Host an appetizer party so that everyone can bring a few plates of their favorite small bites and share recipes with the crew. Set up a buffet table so that everyone can sample and taste some delicious holiday treats without overdoing it in the calorie department. Everyone can fill up a small holiday-themed Chinese takeout box with a few appetizers to take home as a party favor.
4. New Year Gift Exchange Let everyone get rid of the extra gifts and unwanted holiday items without the guilt during a post-holiday gift exchange party. This can be a fun event for people you didn't get to spend the actual holidays with. Have everyone bring at least one gift that they don't really want or need, wrap it up in recycled holiday paper and be prepared to surprise someone with a post-holiday gift. Participants can sign up ahead of time with the number of gifts they'll bring and you can match them up with another attendee before guests arrive. Tag each gift with the recipient as the guest walks in the door and set up a table where guests can pick up their gifts at some point in the evening. Set up a mini-cocktail bar and appetizer buffet for hungry guests.
5. Winter Wonderland Decorate the place like a magical winter wonderland with snowflake cutouts, white garlands, glitter candles, and an ice sculpture as the centerpiece of a white and blue-themed table. Serve Skinnygirl White Cranberry Cosmos and other winter-themed drinks at the mini-bar. Get the fireplace crackling or light several pretty candles. Give out small jars of homemade hot chocolate with peppermint candy canes as a party favor.