This long weekend, we toast to one of our favorite ladies of all: Lady Liberty!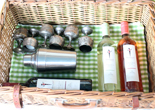 FOURTH OF JULY PARTY Essentials
This long weekend, we toast to one of our favorite ladies of all: Lady Liberty!
Whether you throw a backyard barbecue or a patriotic picnic, entertain outdoors
with these top ten holiday must-haves from Skinnygirl® Cocktails.
Country CHIC DECOR
For a vintage Americana feel, hang rustic lanterns and set up food, drink and photo booth stations with handmade wooden signs. Stock old trunks and wicker baskets with goodies for your girls like ribbon-tied recipe cards, confetti poppers, Skinnygirl® Skinnyminis™ and red, white and blue balloons.
Stars
Pay tribute to the flag with star-shaped snacks like watermelon and caprese sandwiches. Want to amp up the star power even more? Rim martini and champagne glasses with edible stars and add in star-shaped ice. For inspiration, check out the award-worthy glassware from Skinnygirl® Cocktails Insider Kelly Lee.
GARDEN STRAW Garnish
Take floral arrangements beyond the table with these crafty cocktail accessories, made out of red, white and blue crepe paper flowers.
Floats
Every patriotic party deserves whipped cream with a cherry on top! Keep your cool with our vanilla-kissed Skinnygirl™ White Cherry Vodka, featured in these lighter-than-they-look classics: Chantilly Lace Cocktail, contributed by Skinnygirl® Cocktails Insider Kelly Hunt, and our Diet Cherry Float.
FESTIVE Cocktails
This tasty twosome will brighten up any bash:
The Firecracker and Strawberry Rhubarb Smash.
PICNIC Basket
If you take your party on the road, pack supplies in a charming vintage picnic basket. Set the summery mood by lining your basket with sunny prints like gingham. Entertaining at home? Let your basket double as décor by adding in candles, roses and wildflowers.
Corn ON THE COB
The key to any cookout? Corn! Serve in cardboard containers dressed up in bold stripes and set up a station with everything from fresh herbs to parmesan cheese so your girls can top off their kernels in style.
GREEN BEAN Salad
Get your greens with this fresh summertime side. For a colorful twist, spoon salads into red and blue tinted glassware with handmade labels.
SKEWERS
Get your girls fired up about grilling season! For a twist on the traditional barbecue, let your ladies create their own kebabs with an assortment of in-season veggies and fruit like eggplant, zucchini, radicchio, mango and papaya. Want to add some flag-inspired flair? Pair toasted marshmallows with an assortment of blueberries, strawberries and raspberries.
Sparkling BROWNIES
No Fourth of July would be complete without fireworks. Add sparklers to these light and lovely squares to create your own dazzling display.
Have a must-have to add to the list? Let us know on Facebook and Twitter!
For more outdoor entertaining ideas, click here and here.
All trademarks are the property of their respective owners.