Food and Drink Pairing Ideas for NYE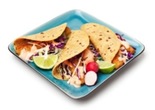 If ever there was a holiday tailor-made for small plates and cocktails, it's New Year's Eve. This menu combines some ready-made foods and make-ahead recipes to help take the stress out of your party day prep. Each one is paired with a complementary cocktail or wine to help accentuate the flavors and maximum your guests' dining experience. Since these recipes are all meant to be served as appetizers or small plates, you may want to serve the drinks as samplers as well. It will give your guests a chance to taste all your offerings without over indulging.
**Mini Fish Tacos with Skinnygirl Margarita** - The distinct citrus notes in Skinnygirl margarita will pair well with the tilapia in this recipe, which tastes as wonderful as it looks. You can make the taco shells and chipotle sour cream sauce ahead of time. Then cook the fish and assemble right before serving.
Tempura Shrimp with Skinnygirl White Cranberry Cosmo - The saltiness of the shrimp tempura pairs well with the sweet and subtle sourness of the Skinnygirl White Cranberry Cosmo. You can find these tempura shrimp in the frozen section of finer markets, and they only take eight minutes to prepare in the oven.
**Grilled Pitas with Tomatoes, Olives and Feta with Skinnygirl Sangria** - Sangria is meant to be served over ice, and is the perfect complement to smoky or Mediterranean flavors. This recipe has them both! If grilling in late December just isn't feasible for you, brown the pitas in an iron skillet ahead of time and finish the preparation in a hot oven.
Jalapeno Gazpacho Shooters with a Medium-Sweet Riesling - As a rule of thumb, the spicier the food is, the sweeter your wine should be. As you might expect, this is because the sweetness of the wine will help cool down your palate from the spicy food. This is a great make-ahead recipe that only needs a few minutes prep right before serving.
Jalapeno Gazpacho Shooters
Ingredients:
10 Roma tomatoes, chopped
1/2 cup onion, chopped
1 or 2 jalapenos (depending on heat level), seeded and finely chopped
1 orange or yellow bell pepper, chopped
1/2 an English cucumber, peeled and chopped
1 large garlic clove, smashed and minced
1 cup fresh white bread cubes
1-1/2 Tbsp. olive oil
1 Tbsp. red-wine vinegar
Croutons and finely diced cucumber for garnish
Directions:
1. Place all ingredients except garnishes into a blender and process until uniform.
2. Strain and salt and pepper to taste.
3. Refrigerate overnight.
4. Pour into shot glasses and garnish with croutons and diced cucumbers.
5. Serve cold.
These food and drink pairings are sure to be a hit with your guests, and Skinnygirl cocktails will help them start off the new year on track. Make sure you serve plenty of food, and have coffee available with dessert and as the party wanes. As always, drink responsibly, and have a great new year!
Content by Cherri Megasko.