Festive Outfits for Your Office Holiday Party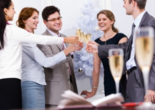 Office holiday parties are just around the corner, and deciding on an outfit and accessories now will save your sanity. Depending on the location of the event, you may even have a piece in your closet already that can be altered with accessories to perfectly fit the bill. Of course, options vary based on location and formality of the event.
A Fancy Holiday Party If your place of employment generally holds its holiday party somewhere swanky, you may have a bit more work to do putting an outfit together. Dresses that fit the bill for a fancy party are generally less likely to be worn again, so feel free to look as elegant as your budget allows! This sassy knee length dress screams to be paired with fuchsia peep toes and diamond studs, while this floor length gown can be easily accented with a statement necklace.
A Semi-Casual Soirée For this type of party though, a basic black dress, well-accessorized, is always a winner. Start with a flattering black dress like this long-sleeved number. It's already work appropriate, so the re-wearable value is high. The right accessories that add pops of color will take this from basic to beautiful. Start with the shoes. Rather than going the typical Christmas-red route again, opt instead for a pair of jewel-toned suede pumps in emerald green or cobalt blue. Add bangle bracelets in gold or silver depending on your skin tone and toss on either a pair of chunky, dangling earrings or a bold statement necklace, but don't wear both! There is such a thing as too many accessories.
A Casual Get Together These parties are the easiest of all because generally you can just wear what you wore to work with a few added accessories to make you feel party ready. A basic pair of well-fitted pencil pants and flattering top can be easily dressed up with a chic, sparkly belt. Add a sequined cardigan to give you a little sparkle, and you're all set for that casual office party.
No matter which holiday party you are preparing for, remember that a basic piece can easily become bold and brand new with the right accessories, no matter what level of formality is needed.