Festive Holiday Centerpieces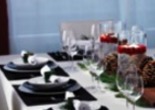 Don't break the bank purchasing expensive table centerpieces this holiday season. Creating your own festive holiday centerpieces is more cost-effective, personal, creative, and fun! What are some holiday centerpieces that you can put together for your next holiday gathering this year?
1. Cranberry Vases: Consider putting together vases filled with fresh cranberries as a centerpiece at your next holiday party. Purchase several clear vases in various shapes and sizes from a local craft supply store. Then, purchase a bag of fresh berries from your local market. Cranberries have the most seasonal appeal, but blueberries make another nice choice. Place some of each berry in different vases to add a simple twist to this festive centerpiece. If you've done small vases, leave about an inch at the top of each vase and sit a small votive candle in the center. For larger vases, consider placing a small floral arrangement in complementary colors in the vase (red and white roses, for instance). Cluster vases together in the center of the table, or line the table with them. If you have leftover berries and vases, consider using small glass bowls and filling them with berries to create place holders for your dinner guests. Have guests take them along as a party favor when they depart. The vases will be the most expensive part of this holiday gift, but if you shop well you should be able to find inexpensive vases in a variety of shapes and sizes for $5-15 each. Alternately, you can use vases you already own. Cranberries can be purchased at your local grocery store for several dollars a pound.
2. Ornament Bowls & Towers: Do you have some ornaments leftover that didn't make it onto the tree this year? If so, you can use them to put together a festive holiday centerpiece this year. Start with a large Styrofoam cylinder purchased from a local craft store. You'll need several dozen small ball ornaments, approximately one inch in size. Remove the caps from the ornament balls and gently push the ornament into the Styrofoam until it is in. Start at the bottom of the tree and work your way around and then up. Alternate colors as you go. Top the tree with a larger ornament. When you're finished, you'll have a beautiful ornament centerpiece for your table. Can't find a Styrofoam cylinder? Consider using balls of various shapes and sizes in a vase or bowl in the center of your table, instead. The Styrofoam cylinder should only cost a few dollars and the ornaments should cost approximately $5 for a box of 12-20. Your time will be your biggest investment in this project, but if you work carefully, it won't take more than 30-60 minutes to complete! Your table will be festive and bright this holiday season with these handmade holiday centerpieces.
Content by Kelly Herdrich.