Eat Healthy Soup This Holiday Season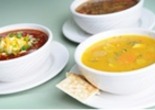 When the days get shorter and the temperatures begin to fall, nothing warms the body and spirit more than a wholesome bowl of homemade soup. By design, many soups make a total meal, containing all four food groups. Eating soups with lots of broth and vegetables, but that are light on meat and starch, is a great way to fill up without overloading on calories and carbohydrates. It also allows us a little room to splurge at all those weekend holiday parties. This recipe isn't quick, but it tastes great. It turns your leftover holiday turkey scrap into a wonderfully rich, flavorful and healthy cold weather soup.
Ingredients:
Leftover turkey carcass - bones and meat 2 cups celery, chopped, divided in half 2 cups onions, chopped, divided in half 2 cups carrots, chopped, divided in half 1 cup whole grain pasta, broken into small pieces 1 cup frozen peas
Bouquet garni:
1 bay leaf 10 black peppercorns 3 sage leaves, crushed 2 garlic cloves, quartered 1/4 cup parsley leaves, chopped 6 sprigs of thyme
Directions:
1. Remove turkey meat from bones. Cut into bite-sized pieces and refrigerate. You'll only need 1 cup of meat for the soup.
2. Place turkey bones in large stock pot. Cover with cold water and bring to a boil.
3. Reduce heat. Skim and discard any foam.
4. Make bouquet garni by wrapping all ingredients in a cheesecloth bag and using a string to tie. Add to the stock pot.
5. Add one portion each of the celery, onions and carrots.
6. Simmer, partially-covered for two hours. Add water as needed. You want to end up with at least four quarts of stock.
7. Strain and discard all solids.
8. Cool the stock in an ice bath.
9. Once completely cooled, carefully skim all fat and discard.
10. Bring stock back to a boil and add the remaining celery and onions. Cook for 15 minutes.
11. Add the pasta and remaining carrots. Cook until tender.
12. Stir in the reserved turkey meat and peas. Heat through.
13. Salt and pepper to taste.
By eating light and healthy during the week, you won't need to feel guilty about enjoying the food and spirits at all those weekend holiday parties. Why not share that same spirit and bring a bottle of Skinnygirl Sangria for your hostess?
Content by Cherri Megasko.