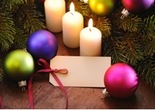 Are you ready to decorate for the holidays? Instead of store bought Christmas ornaments and decorations, consider channeling your inner crafter this year. DIY holiday decorations can save you money and add a personal touch to your home this season. You'll enjoy creating and showcasing these homemade holiday decorations this year.
1. Make a wreath out of inexpensive ornaments. Glass balls can usually be purchased from most discount stores in large quantities with a small price tag. Save your money and don't purchase hooks. Instead, head to your local hardware store for long, pliable wire that you can bend into a circle and eventually close with pliers. Thread the Christmas balls, alternating colors, shapes, and sizes, onto the wire until the ornament wreath is full. Use a large ribbon to create a bow and hang the wreath from your front door, over the fireplace, or use as a holiday table centerpiece.
This creative addition to your home this holiday season shouldn't take more than an hour. If you shop around for ornaments, you can often find boxes of 12-20 for a few dollars. Add in the cost of the wire and ribbon, and this DIY holiday decoration should only cost approximately $25.
2. Add some sparkle to your candles. Do you have candles all around your house or apartment? With a little added sparkle, they can add some holiday dazzle to your home this year. You'll only need candles, Epsom salt, and Mod Podge or a similar, lightweight, clear crafting glue. The items you'll need should be available for less than $10-20. You may have what you need already on hand, so raid the pantry and the craft closet before you head to the store.
To create your sparkling holiday candles, roll your candle in the craft glue or use a paintbrush to spread the glue on. Use care that the glue isn't too thick. Then roll or sprinkle the candle with the Epsom salt, which will create the glitter effect. Once the candle dries, it will be safe to use this holiday season.
Place these festive DIY sparkling candles on the mantle, the sofa table, or use them as a centerpiece on your holiday table this year.
DIY holiday decorations will help add some handmade personality to your Christmas this year.
Content by Kelly Herdrich.