Decorate Your House in 60 Minutes Flat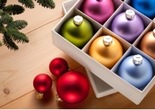 If holiday decorating has ended up at the bottom of the to-do list and there are only a few weeks left until celebration time, plan on setting aside 60 minutes of a busy week to get the job done! A little planning, organizing and delegating is all it really takes to get that holiday décor up and create a festive space for the family and guests. Whether you want to light up the front yard or put up the tree, here's how to take care of all those holiday decorating tasks in an hour or less:
Minutes 1-5: Find a wreath and hang it on the front door. Hang up miniature wreaths on other rooms in the home.
Minutes 5-10: Set up the tree. Get the artificial tree ready for decorating or set up the stand for the arrival of a freshly-cut Christmas tree. Move furniture and wall décor around to make space for the soon-to-be focal point of the room.
Minutes 10-20: Start hanging ornaments on the tree. Have your kids or significant other help you retrieve ornaments, add hooks to baubles and start decorating the tree. Work your way down as the rest of the family works their way up to save on time.
Minutes 20-30: Delegate the task of outdoor lighting. Have your husband, boyfriend or significant other wrap lights around the mailbox and trees in the front yard, or add a net of lights to bushes and other foliage.
Minutes: 25-40: Replace centerpieces and décor with festive touches. Remove candle holders, centerpieces and other décor from the tabletops and mantle to make way for more festive accessories. Pull out those holiday-themed tealight holders, candles, centerpieces, and other pieces of décor to bring the holiday spirit into every room.
Minutes 40-45: Hang up holiday bows. Small red bows can be used to trim the tree and also spruce up chairs or any empty hooks around the home. These tie on in a snap and add a touch of color to any empty space.
Minutes 45-55: Change tablecloths and chair covers. Swap out the dining table cloth with a more festive cover or add a holiday-themed runner. Change out chair covers as well. Consider adding a runner or other covering to empty shelves, mantels, and desk spaces for a punch of color.
Minutes 55-60: Prepare some hot chocolate for the helping hands, plug in the lights, and enjoy the beautiful space you've created. Getting your home ready for the holidays doesn't have to take more than an hour. Use the plan above as a guideline for your own holiday decorating activities, and get everyone in the family involved to make the entire process that much easier - and memorable!
Content by Sabah Karimi.