Cozy up This Fall and Dine Deliciously
...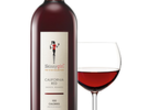 There's something about fall that makes our Skinnygirl® hearts just glow. Some may say it's the fab fall fashion (which we admittedly obsess over), or having an excuse to go apple picking or gallivant about in the autumn leaves (a fun way to burn some extra calories!) But if we were to choose the thing we love the most about the cooler season, it's simply cozying up at home, preparing a healthy seasonal meal and—of course—pairing it with one of our delicious Skinnygirl® Cocktails.
When it comes to choosing wines, Skinnygirl® believes it should be simple. So our three low-calorie, delicious wine choices make it easy (and fun!) to put together wine-and-food pairings at home.. And this month, as the temps drop, we're all about warming up with our Skinnygirl™ Red Blend. And while this light and flavorful wine is perfect on its own, we love pairing it with one of our favorite healthy recipes, created by the Original Skinnygirl herself. (See Bethenny's recipe in the full article.)
After you've prepared your Whole Wheat Fusilli with Tomato, Basil, Pine Nuts and Mozzeralla, (which serves two), we suggest going the Skinnygirl® extra mile by turning a simple night in into a true "occasion." Decorate your table with fall inspired accents like golden tablemats, an orchard-inspired floral centerpiece and some seasonal candles to set the mood. And don't wait for the holidays to bust out the nice glassware (life is now, right!?). Indulge in our delish Red Blend using only the best.
Cheers to dining divinely in the comfort of your own home…and remember, a Lady Always Drinks Responsibly™!
Skinnygirl™TM California Red Wine ©2012 Skinnygirl Cocktails, Deerfield, IL (Per 5 oz – Average Analysis: Calories 100, Carbohydrates 5g, Protein 0g, Fat 0g)