Cinco de Mayo! Decor and Recipes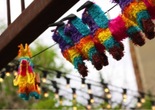 Summer's right around the corner, but you don't have to wait until Memorial Day Weekend to host a get-together! Celebrate Cinco de Mayo by planning a low-key party in your backyard and create a healthy menu of quick and easy appetizers and snacks. And what Cinco de Mayo party would be complete without Skinnygirl® Margaritas?!! Serve in festive, salt-rimmed glasses for a fun pre-summer celebration.
Here are some quick and easy ideas for hosting a fun Cinco de Mayo gathering this season:
Cinco de Mayo Finger Foods
You don't have to spend hours in the kitchen preparing the menu items for your Cinco de Mayo celebration (after all, you'd rather be spending the time actually celebrating the holiday!). It should only take you a couple of hours to prepare a few platters of healthy appetizers and snacks to complement your margaritas and other low-cal beverages. Here are a few ideas for your ideas:
Homemade Guacamole with baked tortilla chips: Mash up some fresh avocado or blend in a food processor) with onions, salt, pepper, chilies, lemon and lime juice to taste for a quick and easy menu item to add to the party table.
Tasty Nachos: baked tortilla chips topped with mozzarella, salsa, jalapenos, and served with a side of low-fat sour cream
Guilt-Free Bean Dip: Mix fat-free refried beans with salsa and serve with baked tortilla chips
Homemade Salsa with Baked Chips: Mix canned pineapple, diced onion, diced tomato, chipotle chilies in adobe sauce with cilantro, lime juice, and salt to taste for a zesty salsa that can be served with baked tortilla chips, or even some pita chips.
Cinco de Mayo Festive Drinks
It's pretty easy to cut the calories in the drinks department. Plan on serving lower-calorie alcoholic drinks like the Skinnygirl® Margarita (original or White Peach!) in some festive margarita glasses with mottled fruit on the bottom. As one of Skinnygirl® Cocktail's low-cal options, Skinnygirl® Margarita gives everyone the chance to enjoy a tasty Cinco de Mayo toast without derailing their diet. And, Skinnygirl® Cocktails provides many options beyond Margarita, so you can find your perfect fit for any guest – whether it's the Skinnygirl® Pina Colada, Sangria, or even White Wine.
You could serve frozen mixed drinks like non-alcoholic strawberry margaritas, pina coladas, and other favorites sans alcohol for guests looking for a sweet and tasty beverage.
Make sure to provide plenty of bottled water for guests - especially if you're hosting the party outdoors.
Cinco de Mayo Party Décor Ideas
Decorate the party space with paper flowers in red, green and white (from the Mexican flag) and set up some miniature Mexican flags on all of the tables and serving areas. Another simple party-decorating idea: use mini cactus plants as centerpieces at the picnic tables or other small tables.
You can also make a fun centerpiece comprised of clay pots, maracas, miniature flags, and mini sombreros. Encourage guests to wear a sombrero for the event and set up a piñata somewhere near the main party area.
Now that you are set to celebrate, enjoy the day and remember, a lady always drinks responsibly! Cheers!
©2012 Skinnygirl Cocktails, Deerfield, IL; Avg. Analysis: All Products: Protein 0g, Fat 0g; Vodka with Natural Flavors (per 1.5 oz.): Calories 75.8, Carbs 0g; Cocktails (per 1.5 oz.): Calories 35.5, Carbs 1.8g; Sangria (per 5 oz.): Calories 132, Carbs 22.5g; Wine (per 5 oz.): Calories 100, Carbs 5g