Celebrate National Margarita Day with the Perfect Mango-Guacamole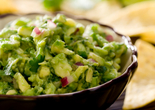 Today is one of our favorite days of the year. No, it's not our birthday, nor is it Christmas and it's definitely not the Oscars…yet.
But in a sense, as Skinnygirls, National Margarita Day feels like our own personal holiday. After all, the Margarita was our original girl, putting Bethenny Frankel on the map, igniting and inspiring women all across the country to love and embrace healthy, low-calorie and fabulously delicious cocktails. So what's a Skinnygirl to do on National Margarita Day? Celebrate of course! And what better way to rejoice with this Mexican-inspired libation than with some Mexican-inspired fare?
So after you've sliced up your limes, rimmed your martini glasses with salt and poured yourself a generous portion of chilled Skinnygirl Margarita, check out our recipe for Mango-Guacamole. Serve with blue corn chips--they're low fat and gluten free—take a bite, raise your glass and say: "Cheers to the original Skinnygirl Cocktail…" You can even an add in an "Olé!" (We won't judge.)
Ingredients
2 tablespoons minced white onion
2 limes, juiced
2 serrano chile peppers, or to taste
2 limes, juiced
sea salt to taste
4 ripe avocados, peeled and pitted
1/4 cup chopped fresh cilantro
1 large mango - peeled, seeded, and chopped
Directions 1. Combine the onion and the juice of 2 limes in a small bowl; allow the onion to soak in the lime juice for at least 1 hour. Strain and discard the excess juice. Set the onion aside.
Grind the serrano chile peppers, the juice of 2 limes, and salt together in a food processor until no large chunks of pepper remain. Add 1 avocado and process until creamy and smooth; repeat with remaining avocados. Transfer the mixture to a serving bowl; fold the onion, cilantro, and mango into the avocado mixture. Serve at room temperature.