Get pampered this Mother's Day with this light frittata!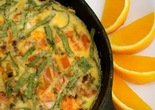 INGREDIENTS:
1 cup vegetables (your choice)

1 egg yolk

2 egg whites

1 tbsp. feta or parmesan cheese

1 pinch salt and pepper, more to taste
DIRECTIONS:
Preheat oven to 350 degrees. Place 1 cup of your favorite sautéed vegetables into small nonstick pan over medium heat. We recommend onions, spinach, zucchini or broccoli, and tomatoes. You can use pre-sautéed, roasted or steamed vegetables of your choice. Add 1 egg yolk and 2 egg whites (beaten) with salt and pepper to vegetable mixture. Move mixture around until slightly solidified. Transfer pan (with ovenproof handle) to oven.
Bake until frittata is almost firm to the touch. Sprinkle with feta or parmesan cheese (1 tbsp.) and bake until firm.